It is said that the hearth is the heart of the home. So, if your home has a fireplace, it likely acts as a focal point in your living area. How you decorate your fireplace mantel can set the whole tone of the room. You don't have to stick with the traditional brick fireplace. There are countless ways to decorate your fireplace mantel to customize your space. Here are some unique fireplace mantel ideas to give you some creative inspiration.
Rustic Look
If you're going for a rustic look in your living space, natural elements are the way to go. A hand-hewn, or "reclaimed wood," mantel will give an earthy feel to the room. Natural stone, and weathered metals like iron or copper will add to the outdoors feel of the space. Paired with a roaring fire in the fireplace, a rustic fireplace mantel will feel warm and welcoming when the cold weather hits.
Vintage Feel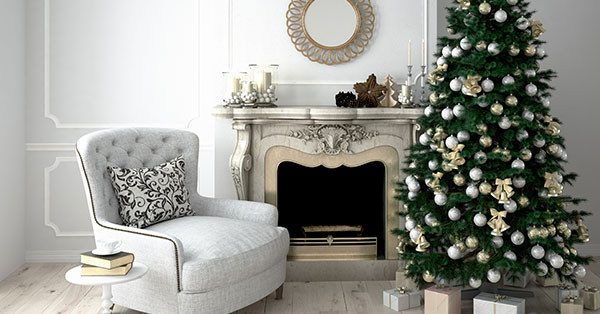 To bring a vintage feel to your fireplace mantel, whitewashed wood is the way to go. Intricate woodwork also adds to this vintage aura. Accents of pastel and metallic gold pair well with this type of mantel design. Use antique mantel pieces like clocks, mirrors, and vases for an authentic vintage look. A small bit of crystal would also work well. For a more royal looking vintage fireplace mantel, opt for marble or mahogany stained wood, and dark accent pieces.
Perfectly Modern
Bright metals, geometric shapes, and an uncluttered fireplace mantel will bring a perfectly modern look to your living area. Bring in a pop of color with a statement art piece. For a truly modern look, consider installing a contemporary, "floating" gas fireplace in the middle of a room. The wide, rectangular shape that is open on most sides will bring the wow-factor to your space.
Coastal Vibes
Bring a bit of the beach inside with cool colors and sea glass, driftwood, or shell accents on your fireplace mantel. Shades of peaceful white, light blue, and pale green will contrast well with a roaring fire in the fireplace. For a truly nautical look, hang row boat oars or a reclaimed ship's wheel above the fireplace mantel.
Faux Fireplace Mantel
If your home doesn't have a fireplace installed, you can still get the look and feel of one! Choose a corner of your living area, and install a small faux mantel. These can be made of wood, stone, or metal, and typically stand alone. Fill the mantel with candles of different sizes for a fireplace-like function. For added dramatic effect, place a mirror on the wall behind the candles. They'll reflect when lit, giving the room extra warmth.
Whichever style you choose, you can extend beyond the fireplace mantel. Use design elements like lighting, fireplace screens, and the surrounding living space to tie it all together. With these unique design ideas, you can customize your space for functionality while giving it a little personality.
What designs have you used on your mantel? Tell us in the comments!