Tis the season for…decorating! You know how it goes. The weather get colder, the holiday season arises and parties are just beginning. When entertaining guests, you want to leave a good, festive impression so holiday decorations are a must. The problem is, they can be pretty pricey. Instead of spending hundreds of dollars this year on décor, try our 8 DIY holiday decorations you can easily make yourself!
Christmas Bottles: All you need is leftover wine glasses, some paint and stickers of your choice! These holiday "Joy" bottles are perfect for the upcoming season. Use them as a centerpiece for your table or on your bathroom or kitchen counters.
Holiday Countdown: Whether it's Christmas, Hanukah or Kwanza a holiday countdown is exciting! It's easy as pie to make. Just get a large chalkboard and paint the frame red. Get some chalk and design your countdown however you want!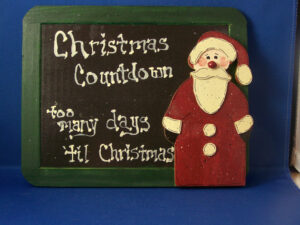 Gingerbread House: A fun family activity that just happens to double as cute holiday décor. You can get a gingerbread kit at any local grocery story. These are the perfect decorations for a dessert table. Yum yum!
Holiday Vases: These are an elegant addition to your holiday décor. Take some clear vases (don't be scared, it's ok to mix and match!) and fill them with your favorite holiday goodies! You can use lights, ornament bulbs, bows or candy canes.
Wooden Snowmen: It's important for the outside of your house to look as good as the inside, and these wooden snowmen can help with that! You need wooden blocks, paint, and fabric. Set these on your stoop or driveway for a welcoming holiday surprise!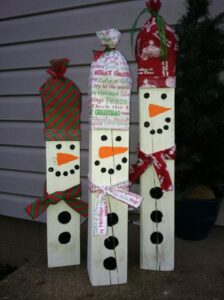 Popsicle Stick Snowflakes: Need some wall décor? These Popsicle stick snowflakes are perfect to fill up wall space, and they're easy to make! You need Popsicle sticks, paint (the color of your choice) and a glue gun. Glue the sticks together to create any type of snowflake you want!
Snowman Door: Do you have some construction paper, scissors, and tape? Who would have thought these simple craft materials can turn your door into a giant snowman! Cut out the construction paper to make the parts of your snowman: eyes, nose, buttons and scarf. Once that's done, tape them to your door of choice and you have the perfect holiday door!
Decorated Mantel: Decorating your mantel is the perfect touch to get your home ready for the holidays. You can use just about anything to bring the holiday spirit into your home! Pine, garland or fake snow is the perfect start. Add some Christmas bulbs, candles and jars of candy and you have the perfect setting!
Don't empty your wallet by purchasing new decorations this holiday season. Try these DIY holiday decorations yourself. DIY projects are a great way to spend time with your family and have fun! Isn't that what the holidays are all about anyway? What other holiday products have you created this season? We'd love to hear about it!