It's a harsh reality but one day our parents won't be able to drive, climb stairs, or even feed themselves. As difficult as it is to think about this, it's important to help aging parents be comfortable and prepare for their last stages of their lives.
You may not know exactly how to lend a hand or even where to start. Plus, what should you do if your parents want to maintain their independence? Here are some things to consider.
Having the Talk
As your parent ages, there are many considerations that you'll need to consider. This shouldn't be a conversation that is sparked out of the blue. Instead, plan a family meeting with your parents and sibling and prepare for it by reassessing your own financial situation and feelings.
The purpose of your meeting should be to talk about getting mom and dad the best care for their needs and wishes as they get older. Be sure to have everyone list out their questions in advance so that you don't feel rushed or forget to ask something important. Consider bringing a tape recorder so that if you don't have time to write everything down, you still get the bulk of the information.
Consider asking questions about where your parents will want to live in the future and how to pay for it. Find out if your parents want to "age-in-place" (stay at their own home), move closer to their kids, or consider an independent senior living community where they will have access to social activities.
It's important that you and your siblings observe your parent's current health and ability to live independently to determine if they need assistance. Look for signs such as poor eating habits, poor hygiene, or forgetfulness. These are indicators that an assisted living facility or caregiver may be needed.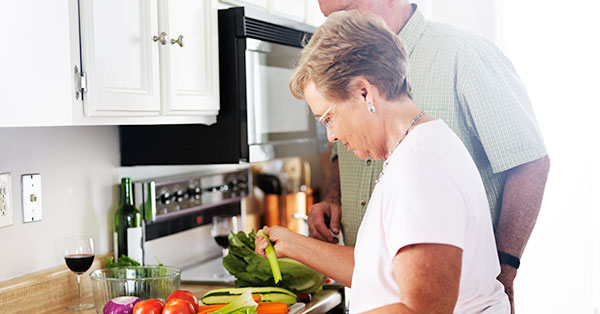 Living Options Considerations
There are a few types of long-term care solutions, ranging from assisted living communities to home health care. Making the best choice depends on your parents' health needs, your resources, and your mutual wishes.
Aging in Place
If your parents would like to maintain their independence by aging in place, be sure to make home improvements that make it possible. LeafFilter supports aging seniors as it eliminates the dangerous task of gutter cleaning. Grab bars, railings, walk-in showers, and intercom systems are simple modifications that will allow your parents to live in their home as they age.
Related: Check out our tips for successfully aging in place
Home Health Care
Home health care services allow seniors to stay in their homes while receiving assistance from home health aides. A caregiver will provide assistance dress, bathing, getting to appointments, and preparing meals. You can hire an in-home personal care on a once a week basis, daily, or around the clock. Your family may decide this is the best option for your aging parents.
Assisted Living Communities
These communities are designed for seniors who can no longer live safely on their own but who don't need around-the-clock care. Residents have their own private apartments. Services include medication help, meals in a shared dining room for socialization, and housekeeping. Assisted living can be costly. In fact, the average cost is around $3,293 per month for a one-bedroom unit according to LongTermCare.gov.
Nursing Homes
Nursing homes are for seniors that require a high level of medical care. These options are for seniors that have complex medical conditions. Licensed nurses are available 24 hours a day. The cost of nursing homes will depend on a number of different factors including if the individual has a shared room, private room, and the level of care required for the patient. Nursing homes can average at around $7,000 per month for a private room.
Splitting the Caregiving
During your family meeting, you may decide that an assisted living facility or home health care option is not the best route. In fact, you may decide that it's best if you and your siblings split "the burden" by each being a caregiver. This can be difficult. The sibling doing the most of the caregiving could easily get resentful of the others. At this point, you may want to set up a family care contract in which the family member taking responsibility of the elderly parents gets paid from family funds. This will reduce the resentment and any potential legal battles that can occur later on.
Take Time for Yourself
Like every other difficult decision, the best thing you can do is get informed and communicate honestly with your siblings and parents. Although the focus is primarily on your aging parents, be sure to take time for yourself. As a caregiver, it is easy to get burnt out trying to do everything and be everywhere. Having a plan, being prepared, and informed, will help ease the transition for the entire family.