Seniors who wish to remain in their own familiar environment as they grow older may want to age in place. Luckily, it's easy to help them achieve this goal. Some basic home improvements and updates may need to be made before a home is safe for aging in place, but the effort is well worth it when you consider the benefits like improved mental health, general outlook, and even improved health.
In order to have the best possible outcome as your loved ones age in place, you should pay particular attention to the bathroom, which is a spot where seniors can easily have an accident and get severely injured.
Think about all the normal safety hazards in a typical bathroom. From slipping on puddles when you get out of the shower, to reaching for grab bars that are a little too loose to hold your weight, there are countless safety hazards for seniors in the bathroom. Add in the added fall risk most seniors experience due to a loss of balance and strength, and the bathroom can be a very dangerous place for the otherwise independent senior.
Check out these bathroom safety tips to ensure your loved ones can remain safely in the family home as they age.
Install Secure Grab Bars
There's certainly a reason this is number one on this list of bathroom safety tips. A nasty fall can put your loved ones at risk for serious and even fatal injuries. It is extremely important to limit fall risk in any way possible, and grab bars are a great start. They'll give little extra support to help seniors safely get around. Handles should be placed next to the toilet, vanity, and shower to allow for easy movement throughout the bathroom. For maximum strength, they can be reinforced with drywall anchors or even by installing strategically placed studs in the wall. Keep in mind that the optimal height for any sort of handle, switch, or other fixture is 32 inches.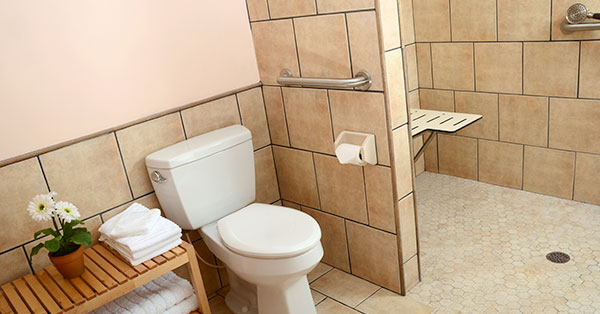 Put In a Handicap Accessible Shower
Many seniors will find they have trouble stepping over high edges to enter the bathtub. Even if mobility isn't a problem for your loved one now, it may become an issue in the future, so it is best to install a handicap accessible, walk-in shower now as an extra precaution. A walk-in shower will ensure that seniors won't have to step over any sort of lip or edge in order to enter the facility, so there is less risk of tripping.
When picking out a handicap accessible shower, be sure it's big enough to accommodate things like a wheelchair or even a home health care aide. Other helpful features of a handicap accessible shower include grab bars and a shower seat, which will provide a place to rest in case of fatigue or pain while showering. A no slip texture on the bottom of the shower and on the surrounding bathroom floor is also necessary for preventing falls.
Check That Countertops are the Right Height
The optimal height for vanity countertops is also 32 inches. This height allows for easy access to anything on the countertop, and prevents the need to stretch in order to reach things. To find out the optimal height for other fixtures, check out this aging in place infographic.
Update Old Electrical Work
When updating an old home for successful aging in place, it's important to consider that there may be old electrical features that are no longer safe or in code. This can be especially dangerous in a wet environment, such as the bathroom. It is best to bring in an inspector to check the electrical fixtures in the bathroom (and the rest of the house, for that matter!). Working with electricity is extremely dangerous, so if any updates need to be done, always hire a professional electrician to make the repairs.
Brighten It Up With Lighting and Install a Fan
While the electrician is updating your switches and controls, add on a few extra tasks to the job spec. For seniors with poor eyesight, bright lighting in the bathroom is crucial to their safety. In addition to the main overhead light, you may want to add some lighting around the vanity mirror, and a few canned lights above the toilet and shower. These will eliminate shadows and help illuminate tripping hazards so your loved ones can safely navigate the bathroom independently.
You should also ask your electrician to install a bathroom fan to cut back on excess moisture in the bathroom. Not only will humidity increase the risk of slipping and decrease visibility, but it will also allow mold and mildew to grow in the bathroom. For seniors with poor immune systems or preexisting conditions, mold and mildew can be disastrous for their health.
Follow these bathroom safety tips, and keep checking back to our blog for more handy tips, for successful aging in place.
What other bathroom modifications would you suggest for maximum safety? Tell us in the comments!