The hearth of your fireplace is the focal point of the room and is the perfect place to cozy up during a long winter's night. When looking to restyle your mantle, consider these new styles.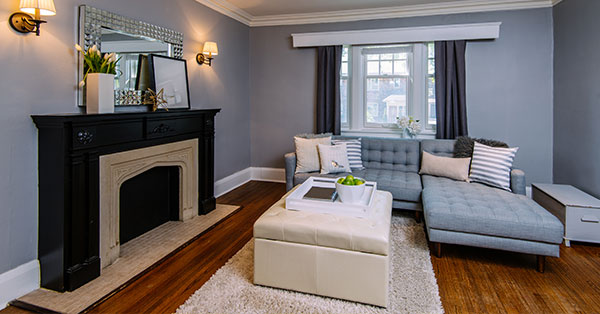 Antique Heirlooms
Adding antique heirlooms to your mantle draws the eye to your fireplace. Think about adding unique vases, antique mirrors, old candlesticks, and old books to cozy up your fireplace. Assembling your favorite vintage finds will create a beautiful display.
Paint your Brick White
Looking for an instant refresher for your fireplace? Try painting your fireplace white! Refresh dated brick with a coat of cream paint to give your fireplace and instant update.
Swap in a Mirror
If you're tight on space, adding a mirror to your mantle can make your living room appear bigger. It will fake an extra window by establishing a bright focal point. We recommend adding foliage, vases, pictures, and flowers, to frame the mirror.
Create a Warm Glow
While traditional fires can make a mess, you can still enjoy your fireplace by swapping in candles in different sizes and shapes. This will create a cozy, gentle flickering glow. If you are worried about forgetting to blow out your candles, flameless LED lights are also a great option.
Add in Greenery
If you don't typically use your fireplace, adding in plants and succulents can bring the outdoors inside. Incorporate succulents, ferns, and other low maintenance plants in an array of shapes and sizes into the hearth of your fireplace.
Stack Up Logs
Another great idea for those that don't use their fireplace is to fill it up with different sized logs. Stacked logs look beautiful layered into the hearth of your fireplace.
Get Artsy
Your fireplace mantle is a perfect place to display your favorite painting or add a collage of art. You can try out modern art or vintage pieces to complement the rest of the room.
Faux Mantle
No mantle? No problem. Incorporate a DIY mantle that utilizes a hanging shelf and festive knobs. This is a perfect solution for hanging stocks and around the holidays.
Switch It Up
Decorating your fireplace is one of the easiest ways to transform your home. We encourage you to change up your mantle seasonally or as much as your like — not just around the holidays!