Are you a homeowner considering all of the flooring options for your home? If so, you may be wondering whether carpet or hardwood floors would be best for your particular space. You're in luck because LeafFilter compiled this handy flooring guide that will help you determine which option is right for you and your family.
Four Factors to Consider
There are four main factors that you should consider when trying to figure out whether carpet or hardwood floors are ideal for your home. First, you should think about durability. How long will each option last and how long does it take to install carpet and hardwood. Next, consider resale value and how much carpet and hardwood floors will add to the value of your home if you choose to resell it one day. Livability or how easy each flooring option is to clean and live with should be taken into consideration as well. Lastly, the environmental impact of carpet and hardwood also needs to be evaluated. Read on to learn more about how both options impact durability, resale value, livability, and the environment.
Durability
When looking at durability, you will find that installing carpet will be far less expensive than installing hardwood floors. However, hardwood floors last longer than carpet, making them a better long-term investment. If you are planning on staying in your home for over 20 years, you will likely need or want to replace your carpet while hardwood floors would continue to be in good shape.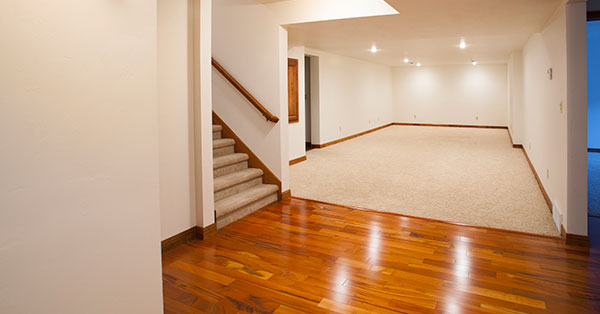 Resale Value
You may sell your home at some point down the road. If you are planning on selling your home one day, you should understand that almost all buyers prefer hardwood floors over carpet. This is mainly because hardwood floors are easier to maintain and more expensive to install than carpet.
Liveability
If you're looking for a softer, warmer, and quieter option, carpet is your best bet. Keep in mind that if you do choose carpet, you will need to regularly shampoo or steam clean in order to prevent it from trapping in mold, dirt, dust, pet hairs, and allergens. While hardwood floors are susceptible to dents and scratches, they are also charming and easier to clean and maintain. You can sweep them once a week and mop them on a monthly basis.
Environmental Impact
Fortunately, there are more and more carpets these days that are comprised of some form of recycling potential. However, there are many that are still made form synthetic compounds that are non-sustainable. Hardwood floors consist of trees which are sustainable if they come from a supplier that is certified by the Forest Stewardship Council.
Although hardwood floors are pricier and harder to install and replace, they are more durable, easier to maintain, and more attractive to homebuyers than carpet. What type of flooring option do you prefer for your home?