If you're planning on making some home improvements in the near future, you're probably considering how they'll fit into your budget. While it's important to look at up-front costs you'll encounter, such as cost of materials and labor, it's also important to take into consideration the ways your improvements will save you money in the long run.
Take gutter guards, for instance. You may ask yourself, "Is the cost of gutter guards worth it?" There are many factors to think about, but the short answer is, "Yes, absolutely!" Here's why!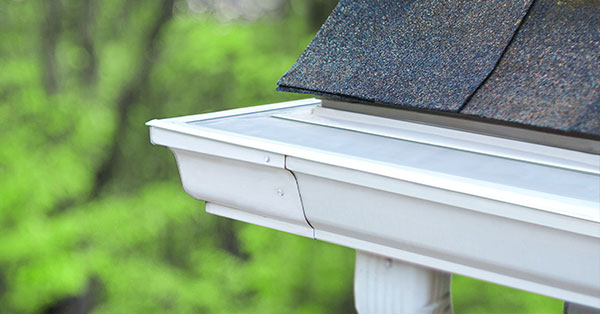 The cost of eavestrough cleaning over time
The number one thing to take into consideration is whether you pay to have your gutters cleaned by a professional. If you do, the cost of gutter cleaning really adds up over time. The average cost of eavestrough cleaning is $148. However, depending on the size, number of levels, and any other unique characteristics of your home, you could pay upwards of $330 per gutter cleaning.
As you know, gutter cleaning is a temporary solution to a permanent problem. What does this mean? Well, it's recommended that you have your gutters cleaned 2-3 times a year, depending on the amount of organic debris you encounter in your region.
So, by year's end, you may have to shell out $1,000 just to maintain your gutters. Multiply that by the number of years you intend to stay in your home, and you can see how beneficial gutter guards will be in the long term.
The cost of home repairs due to the damages of clogged gutters
After learning the cost of gutter cleaning, you might be weighing your options. Perhaps you're considering skipping gutter cleaning altogether. Unfortunately, that option can be even less cost effective than gutter cleaning.
Gutters play an essential role in diverting water far enough away from your home to prevent damage. Clogged gutters can cause all that water to overflow before it can be diverted, which wreaks havoc on other parts of your home.
Prolonged water exposure can cause a lot of costly home damage. Here are just a few of these repairs you may need to take care of if you decide to simply neglect gutter cleaning to save a few bucks. The estimated costs of these repairs are based on averages reported by the trusted home experts at HomeStars.
• Foundation repair – $3,967
• Roof repair – $713
• Pest extermination – $179
• Water damage repair – $2,327
• Inspect for mold – $748
• Mold remediation – $2,158
• Landscape erosion prevention, such as landscape curbing – $1,153
• Powerwash siding – $281
Most homeowners may only have to face one or two of these repairs before they identify the root cause, and fix their clogged gutters. However, in a worst case scenario type of situation in which the problem goes unattended for several months of years, you may face an average of $11,526 in home repairs. This price is, of course, dependent on where you live, the quality of service you expect, and the extent of the damages to your home, so your mileage may vary.
Also keep in mind that, once you make insurance claims to help reduce the out of pocket cost for these repairs, your deducible and premium will likely increase. However, an up-front investment in LeafFilter gutter guards will prevent these costly issues and may even help you make a case to reduce your home insurance. By now, the cost of gutter guard systems should seem like a small drop in the bucket, but perhaps you need more convincing.
The cost of emergency medical treatments
Eavestrough cleaning is not only a metaphorical pain, but it can become a literal pain as well. Hundreds of thousands of homeowners are injured each and every year due to falling off the ladder, and many of them fell while cleaning gutters.
When you tackle DIY gutter cleaning, you're putting yourself at risk for injuries related to ladder falls such as concussions, spinal cord injuries, broken bones, and even fatality. This would leave you or your family with large medical bills, the lasting repercussions of these types of serious injuries, and, in the worst cases, even funeral expenses.
With LeafFilter, you'll have the advantage of never having to climb that ladder again. You can't really put a price tag on that type of security, but the cost of a hospital visit for traumatic brain injuries (which are commonly seen as a result of falling off a ladder) can run in the tens of thousands of dollars for initial treatment.
This does not include the recurring costs of follow-up care, time lost at work, or the emotional toll these injuries can take on an individual. When taking these factors into consideration, it's easy to see that staying safe with the help of gutter guards is truly priceless. Why even blink at the cost of gutter guards systems?
The ROI
Gutter guards can be a great selling point when it comes time to put your home up for sale! LeafFilter's sleek, low profile design will be practically invisible from the ground, and will prevent those unattractive dirt and grime streaks from forming on your siding. This provides a huge boost to your curb appeal, which is one of the most influential components of staging a home for sale.
On top of boosting your curb appeal, you'll have the added advantage of being able to transfer LeafFilter's industry leading warranty to the next homeonwers. This means they'll continue to reap the benefits of clog-free gutters, saving them time, money, and a lot of headaches down the road. This type of investment can bring great ROI upon the sale of your home!
Between the cost of gutter cleaning, the cost of repairing the damages caused by clogged gutters, the safety risk of gutter cleaning, and the positive ROI of installing gutter guards, it should be clear to see that the cost of gutter guards systems is completely worth it.
Oh, and once you invest in LeafFilter, be sure to pass this information along to other homeowners who ask you, "Are gutter guards worth the cost?" They'll be sure to thank you! Request a free estimate today.