Is DIY Rain Gutter Cleaning the Right Choice?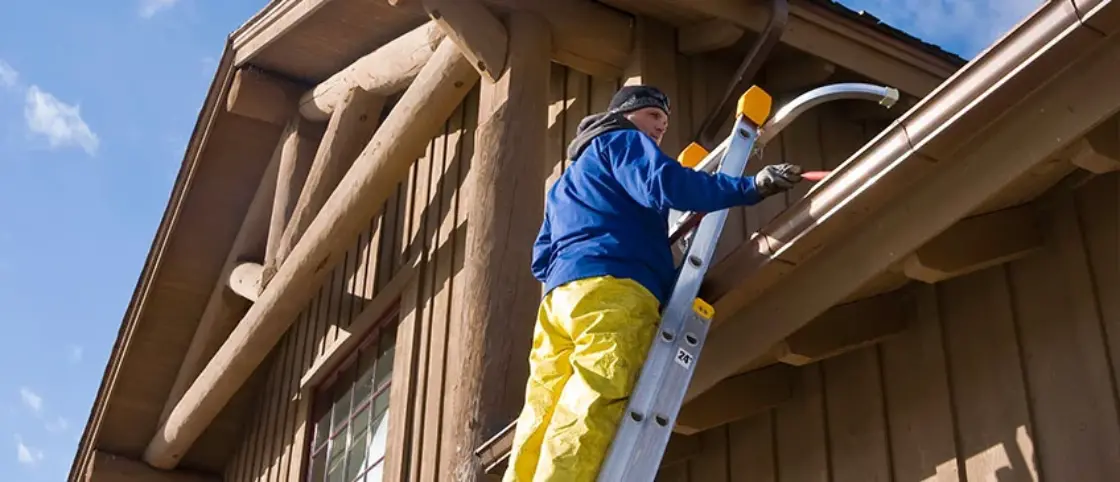 Updated
November 21, 2016
If you've noticed debris piling up in your gutters, it may be time to give them a good cleaning. Left alone, the buildup of debris can cause many issues with your roof and gutters, ultimately leading to costly repairs.
Many homeowners consider cleaning gutters themselves to save a little money. But with all the risks that come along with this job, is DIY rain gutter cleaning really the right choice? It turns out, you're probably better off hiring a professional to do the job. Here's why:
Safety Risks
The biggest concern with DIY gutter cleaning is your personal safety, and the safety of those around you. Many homeowners don't have the right equipment to take care of rain gutter cleaning without putting themselves in significant danger.
When cleaning gutters, it's not always easy to stabilize the ladder. Even with a ladder stabilizer, it can be difficult to find a flat, dry patch of land to place your ladder every time you move it. It's also important to avoid reaching too far to grab debris out of the gutters, as it's easy to lose your balance. Your gutters may buckle under any weight you put on them, so leaning on your system for balance is another thing to avoid.
You should also keep in mind the safety of anyone nearby as you tackle rain gutter cleaning. Be mindful of anyone moving around the base of your ladder, and don't drop any tools or debris on the ground without first looking to make sure no one is standing below.
With all of these safety concerns, it's certainly in your best interest to hire a professional to take care of the job for you.
Overlooking Major Problems
As a DIY'er, you may not have the expertise needed to keep your gutters in optimal working order. Cleaning gutters is certainly a good start to maintaining your gutter system, but it may not take care of all your problems. Professionals are trained to spot things like small cracks, improper pitch, wood rot, and other potential problems with your rain gutters. These issues can be tough to identify to the untrained eye.
When you hire LeafFilter to take care of your gutters, we'll take care of cleaning gutters, as well as sealing, realigning, and reinforcing the entire system. This ensures they're working better than when they were first installed. In addition, we'll install our patented, micro mesh gutter protection system on your gutters. This system is designed to keep everything but water out of your gutters for good. Best of all, with LeafFilter, you won't have to worry about rain gutter cleaning ever again.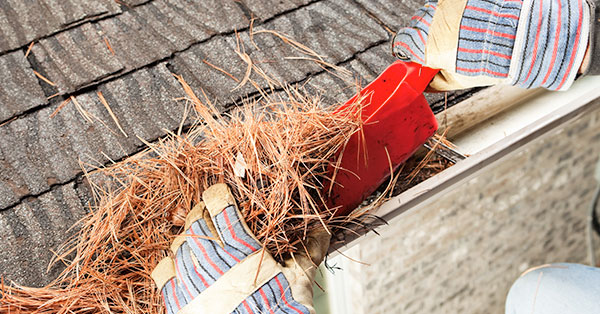 Don't Try DIY
While DIY gutter cleaning seems like an attractive option, there are several potential problems to consider. First and foremost, you need to prioritize your personal safety. Gutter cleaning is one of the most dangerous home improvement tasks homeowners can face. You may also miss other problems with your rain gutters, which can cause disasters down the road. Things like basement flooding, foundation cracks, landscape erosion, and even mold and mildew are some of the many home disasters homeowners face when they neglect their gutters.
Don't fall into this trap. Hire a professional, like LeafFilter, to take care of your rain gutters, and you'll never have to worry about your gutters again. So make the choice, and ditch gutter cleaning for good. Fill out the form to request your free, no obligation estimate today.