When it comes to keeping your lawn in pristine condition, nothing compares to the quality and comfort provided by a riding lawn mower. Not only can you adjust trimming settings to get the perfect length of grass or decrease your mowing time, but you get to sit cozily and actually enjoy this essential lawn-care task. However, owning this resourceful, yet expensive pieces of equipment will require efficient maintenance to ensure you get the most value out of your investment. Take a look at some of the essential tips every riding lawn mower owner needs to know to keep their machine running smoothly for many years to come:
Inspect the mower deck
Your mower deck is the essential accessory to keeping your yard nice and trim, so cleaning it after every few mowing sessions is an absolute must. To give your mower deck a more thorough cleansing, remove the belt guards that surround the deck. Belt guards trap all the debris and lawn clippings inside your mower deck, so be sure to give them a scrub down as well. Using a leaf blower or air compressor, start blowing the underside of the mower deck. Once you've gotten rid of the majority of the debris, hose down the area for one last efficient cleansing. If you still find plenty of grass clippings hanging on, you might need to manually remove them by scraping debris off with a screwdriver or another sharp-edged tool.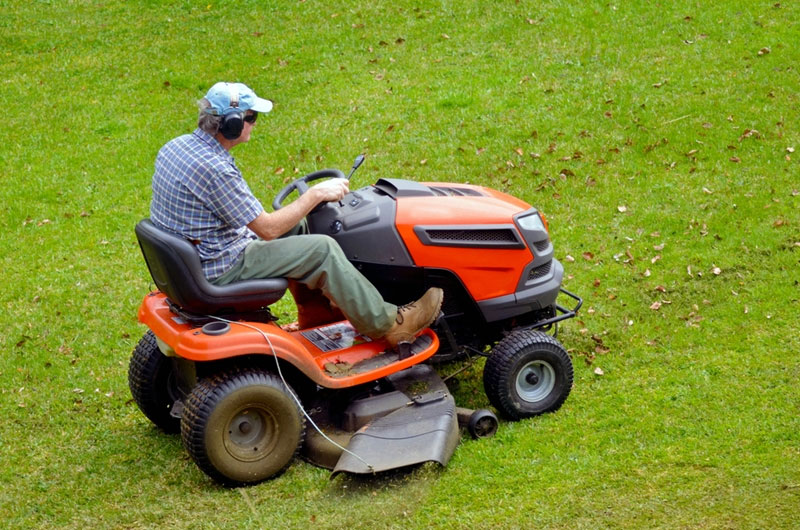 Anything from deflated tires to dirty oil filters can keep your riding lawn mower from reaching peak performance.
Check the spark plugs
Excessive wear and tear on a riding lawn mower's spark plugs can cause everything from inefficient fuel economy to engine complications. Luckily, these essential accessories to your machine are typically reasonably priced, so changing them regularly is always recommended for maximizing your riding lawn mower's potential. All it takes to change a spark plug is unscrewing the old one and replacing it with a new one. Switch out your spark plugs at least every month or two, especially if you're a frequent mower.
Change the oil filter
Regularly replacing the oil in your riding lawn mower is crucial for allowing the engine to run smoothly, especially during a hot summer season. You should be changing your machine's oil after every 50 hours of usage, or if you notice any debris floating around within the filter. Whenever you're about to change the oil, remember to start up the mower, leave it running for a few minutes and turn it off before changing. Sometimes a new oil filter is just what your riding lawn mower needs to start operating at a higher level, as these collect plenty of dirt and particles over time. Familyhandyman.com recommends changing the oil filter every time you change the oil.
"Always consider having a professional sharpen your mower blades."
Switch out the blades
If you start noticing that your grass isn't looking as trim as usual, despite performing all the above maintenance practices, it's probably time to switch out your blades. The duller your mower blades are, the more stress you're causing on both your engine and belt guards. Unless you're experienced at sharpening lawn mower blades, seek out a professional to avoid any potential accidents. Otherwise, you'll have to remove the mower deck, loosen the blade bolts, remove the blades and sharpen them using a metal file or vice.
Inflate your tires
With all the more precise details listed above, it's easy to overlook how deflated tires can affect your riding lawn mower. Look up the recommended air pressure levels for the tires of your riding lawn mower and check to see if they're where they need to be after every couple mowing sessions. Also, keep an eye out for signs of wear and tear, as damaged tires can also impact your machine's mobility and performance.
Speak to the pros
If you've exhausted all your DIY maintenance options only to find that something still isn't working right, it's time to take your riding lawn mower to the experts. More often than not, you'll find that a professional tuneup won't cost you that much, typically $50-75, and could also be completely free if your machine has a warranty.