When was the last time you had clean eavestroughs? If it's been so long you can't remember, it's time to finally get down to gutter cleaning. Many homeowners prefer to DIY this task, but that's not the best idea.
Due to safety concerns, the difficulty of the job, and the necessity for the gutters to function properly, it's a much better idea to hire an eavestrough cleaner. Unfortunately, it's not uncommon for a gutter cleaner to try to nickel and dime you. Here's how to avoid letting a eavestrough cleaner clean out your wallet.
Look for a dedicated gutter cleaning service
Some companies aren't even dedicated gutter cleaning services, so they'll attempt to persuade you to let them clean your windows or power wash your house in addition to your main concern – your gutters. This may seem like a great deal, but in reality, this type of "bundling" with tasks that don't really need done can end up costing you more in the end.
It's best to find a company that solely specializes in gutters so that you can be sure you're getting the most bang for your buck. LeafFilter has been a leader in the gutter industry since 2005, and to this day remains dedicated to protecting homes across North America from the damages of clogged gutters. We'll never try to add in a new garage door or a landscaping makeover because we simply don't offer those services. At LeafFilter, it's all gutters, all the time.
Make sure they have proper insurance
Your neighborhood gutter cleaner may not be protected by the proper insurance. This puts both you and the worker at risk if an accident were to occur.
You, as the homeowner, may be liable for covering medical expenses and additional damages incurred under your homeowner's insurance, while the worker may lose his very livelihood. Make sure to ask whether the worker is properly bonded and insured, and ask to see a certificate of proof before allowing them to work on your home.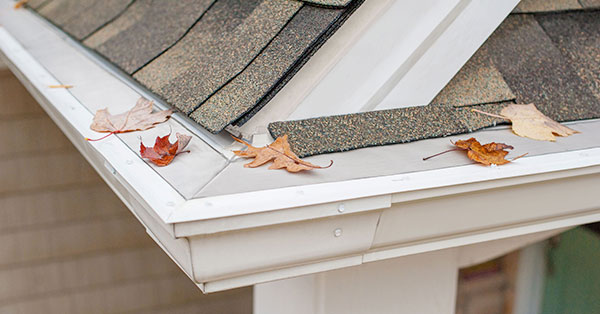 Check customer reviews
Reviews on sites like Home Advisor, Angie's List, and Trust Pilot can give you a good idea of what to expect from your gutter cleaner. Look to see what customers have to say about the company's pricing, and whether they were satisfied with their clean gutters by the end of the job. Just keep in mind that the aggregate score (sometimes known as the star rating) is a better indicator of their typical performance than a small spattering of good or bad reviews.
Ask about discounts
It's always a good idea to search for coupons before an eavestrough cleaner is scheduled to perform work on your home. You can look online, in coupon books you get in the mail, and in your local newspaper. However, you may also be able to get discounts that aren't readily available. When the company representative comes to give you your gutter cleaning quote, ask them if there are any additional discounts. Many companies offer a senior or military discount, or they may even be getting ready to run a special that hasn't been announced yet. It never hurts to ask.
Clean gutters don't have to cost a fortune. By asking the right questions and advocating for yourself, you can get the best price possible to get the job done. Contact the LeafFilter gutter experts today for your free, no obligation estimate.