As a homeowner, you likely know how important it is to prevent clogged gutters. When your gutters are clogged with leaves, pine needles, shingle grit, insects, rodents, and other debris, they can no longer perform their intended function. They won't be able to divert rainwater away from your home and may cause serious and costly home damages such as mold, landscape erosion, a heaving driveway, basement flooding, and structural problems.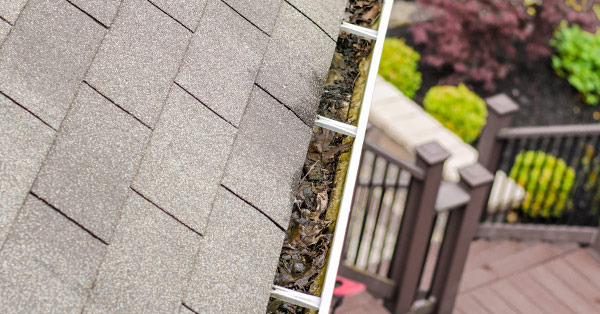 Gutter Cleaning: The Obvious Solution
You may decide to clean your gutters in order to protect them from clogs. While gutter cleaning may seem like the ideal solution, there are some issues with it. First of all, gutter cleaning is a dirty, disgusting job and climbing a ladder to clean your gutters is flat out dangerous.
Additionally, if you hire a professional gutter cleaner or gutter cleaning company, you could end up overspending on gutter maintenance. Think about it. If you pay for gutter cleaning a few times a year for the lifetime of your home, you could be dishing out thousands and thousands of dollars.
Gutter Guards: The Permanent Solution
Rest assured there is a better solution to gutter cleaning. High quality gutter guards are a permanent solution to clogged gutters and can eliminate the chore of gutter cleaning forever. Once they are installed on your gutters, clogged gutters will become a thing of the past and your home will be protected from damages.
Why LeafFilter?
With so many gutter guards on the market, you may be overwhelmed and unsure of which ones are right for you. While you could opt for a DIY gutter guard from a home improvement store like Lowes, Menards, and Home Depot, doing so could cost you more in the long run. Most DIY gutter guards are ineffective and will provide you with a temporary solution to clogged gutters.
LeafFilter, however, is a professionally installed gutter guard system that can prevent clogged gutter damages for the lifetime of your home. Unlike other gutter guards, it features no holes, gaps, or large opening and keeps all types of debris out of your gutters.
Backed by a lifetime, transferrable warranty, LeafFilter guarantees that nothing but water will enter your gutters. Since the product installs on your existing gutters, you won't have to buy all new gutters and can comfortably afford this revolutionary gutter protection system.
Intrigued by LeafFilter? Request a free estimate today.