Out of sight – out of mind. That's what many homeowners believe when it comes to caring for their gutters. But, did you know that taking care of your gutters will protect your home from serious and expensive water related damages? In fact, not cleaning your gutters or hiring a gutter cleaning service can lead to home issues such as:
Foundation damage
Structural issues
Basement flooding
Landscape erosion
Soffit and fascia rot
Here at LeafFilter, we know a thing or two about gutter cleaning (and how to avoid it)! Let's take a look at some gutter cleaning myths that we occasionally hear.
Myth #1: Removing the "gunk" is good enough
You can't just remove the leaves and debris out of your gutter system and call it a day. Proper gutter cleaning involves inspecting your system. This includes all seams and leaks, flushing your downspouts to prevent clogging and making sure everything is properly draining. You'll also want to ensure that your downspouts are diverted far enough away from your home exterior to allow water to properly divert away from your home.
Myth #2: Gutter cleaning is easy
Cleaning gutters is hard work. Climbing the ladder to clean your gutters and remove leaves and other debris can be dangerous. If you happen to overreach and lose your balance, you can be seriously injured. If you're not hiring a gutter cleaning service, it's important to follow ladder safety tips to ensure you don't get seriously hurt when gutter cleaning.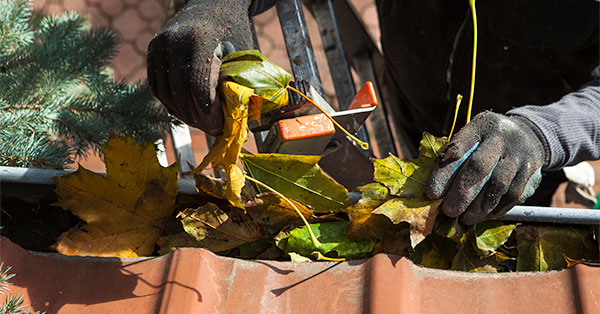 Myth #3: Gutters only need to be cleaned once a year
We get it – climbing the ladder to clean your gutters is a tiresome and downright dirty job. However, that doesn't mean you only have to do it once a year.
Harsh weather can wreak havoc on your home's exterior. You never know what type of debris could land in your gutters or what type of damage your gutter system could be exposed to. Your gutters should be fully cleaned and inspected multiple times a year in order to function properly and defend your home from extreme water damage.
Myth #4: It doesn't matter when your gutters are cleaned
If you haven't given it any thought to preparing a gutter cleaning schedule, you may want to rethink your strategy. The time of year that you schedule to clean your gutters can play a major role in determining the effectiveness of this procedure.
For example, if you wait to clean your gutters after the fall, you can ensure that all of the leaves and debris that fall during this time of year are removed from the gutters. However, if you are noticing that your gutters are sagging, clogged, or not draining properly, you'll have to clean them sooner to minimize the risk of damage occurring to the house.
Myth #5: All leaf protection systems do not require cleaning
Some leaf protection systems, like reverse curve gutter guards, feature a long opening that runs the entire length of the gutter. The point of the leaf protection system is to divert debris over the edge, while pulling in any rain water.
Unfortunately, since the large opening runs the entire length of the gutter, leaves, sticks, pine needles, maple seeds, and other types of debris can get in, too! This may lead to an even bigger headache as a homeowner will have to remove the gutter guards in order to clean the inside of the gutter and prevent any extensive home damage.
How to Eliminate Gutter Cleaning with LeafFilter
When you think of gutter cleaning, you may think you only have two options: DIY gutter cleaning or hiring a gutter cleaning service. Unfortunately, both of these options are temporary solutions to a permanent problem. After cleaning your gutters, debris and gunk will continue to enter and clog your gutters. Fortunately, there is a permanent solution: LeafFilter Gutter Guards.
LeafFilter is an effective leaf protection system that is installed on top of your existing gutters, providing clog-free gutters for the life of your home. Once installed, you'll never have to worry about cleaning your gutters again!
Our professional installers will clean and realign your gutters to ensure they are effectively working before securing our surgical grade micromesh filter to your gutters. As the #1 consumer rated gutter guard in the nation, you'll never have to worry about gutter cleaning again!
With a lifetime warranty and 100% money back guarantee, you'll enjoy the peace of mind that your gutters, and your home, are protected for life! Fill out our form for a free consultation!