With all of the home maintenance tasks that come around springtime, it's easy to forget about your gutters. However, your gutters are incredibly important to the health of your home. Ignore this important chore and you're sure to be sorry.
LeafFilter Gutter Protection has been helping homeowners across the country keep their home safe and protected from the damage of clogged gutters since 2005. Find out how a properly functioning gutter system safeguards your home from damage.
Why Gutters are Important
A properly functioning gutter system protects your home from water damage. When your gutters are clean and clog-free, water will be channeled away from the base of your home. However, when your gutters become clogged, water can back up and spill over the sides, damaging your roof, fasica, soffit and siding.
Unfortunately, one of the biggest problems for homeowners is that gutters tend to be "out of sight, out of mind." That is, many homeowners don't necessarily think about their gutters until there is a real problem and the effects become costly and serious.
Is your Home at Risk for the Damage of Clogged Gutters?
When your gutters become clogged with leaves, pine needles, and even shingle grit, your home could be at risk for serious and costly damages. As debris builds up over time, it can lead to:
-Foundation damage
-structural issues
-Fascia and soffit rot
-Mold and mildew
-Basement flooding
-And more!
Checking your Gutter's Performance
A properly performing gutter system includes gutters on every sloped edge of your home which are pitched properly and free of gutter leaks and holes. In order to safeguard against serious and costly issues, it's important to check your gutters on a regular basis.
We recommend looking for the signs of clogged gutters to see if there is an issue. Perhaps your gutters are sagging, which could either be the result of a faulty gutter hanger or severely clogged gutters. We also recommend looking for any leaks or holes. This can cause water to pool around the base of your home, which will lead to serious foundation and structural issues after a while. In Some cases, your gutters may be too far gone and need to be replaced.
Regular Gutter Maintenance is Key
To keep your gutters clean and clog-free, and prevent costly home damages, you'll have to climb the ladder multiple times per year. Not only is gutter cleaning a dirty and disgusting task, it's dangerous too! Over 164,000 injuries are related to injuries per year. Fortunately, LeafFilter eliminates the need for gutter cleaning and provides a permanent solution to clogged gutters.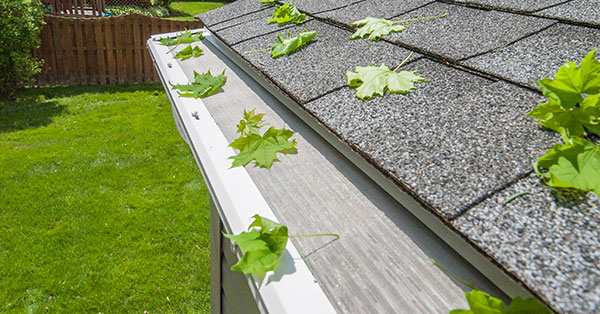 Avoid the Threat of Clogged Gutters with Leaffilter Gutter Protection
With LeafFilter, you can avoid common gutter problems and the damage of clogged gutters with our one-of-a-kind gutter guard solution. Once installed onto your existing gutters, LeafFilter prevents clogged gutters and protects your home safe from water-related damages. Our team will inspect your gutters and ensure they are in tip-top shape and effectively keeping your home safe. With a lifetime, transferable money-back guarantee, you'll never have to worry about cleaning your gutters again.