Home maintenance can be quite a pain. It can take a lot of time, money, and energy to accomplish even some of the most basic home maintenance tasks, which means a lazy summer afternoon is an unattainable wish. It's no wonder, then, that many homeowner desire a break from all these chores.
But, avoiding chores can be catastrophic in the long run. Not cleaning your gutters can lead to foundation problems, ignoring a water problem in your basement can lead to uncontrollable mold growth, and so on. Luckily, there's usually a happy medium that will allow you to sit back and take a break without putting your home at risk. Follow this guide to low effort home maintenance from LeafFilter, and having a beautiful home will be a breeze!
1. Place moisture detectors in your basement
Checking for moisture in your basement should happen regularly, which can become tedious. It's also quite easy to forget to check as often as you should. Left unattended, moisture in your basement will lead to mold and mildew growth, which puts your health at risk, and it can even compromise your foundation. Eliminate the need to check your basement yourself with a moisture detector. This device will alert you when it detects any unwanted water by setting off an alarm. Some high-tech solutions may even be able to send you a text in case you aren't home to hear the alarm. Be sure to place your moisture detector near any areas of your home that are vulnerable to leaks, such as near the water heater, washing machine, old pipes, and small cracks or gaps in your foundation.
2. Install an automated sprinkler system
Who wants to lug around a heavy hose to water the lawn and gardens? Even if you have a small yard, it can become a burden to remember to turn the water on and off at the right intervals. An automated sprinkler system will take all the guesswork and hard labor out of watering the lawn and gardens. High-tech automated sprinklers can detect when the lawn has become too dry and turn the sprinklers on by using moisture sensors, temperature gauges, and timers that alert the system that it's time to water. That means you can sit back and enjoy the sunshine without the underlying dread of having to water later on.
3. Make your next roof a metal one
Roof maintenance can be particularly perilous. We here at LeafFilter strongly discourage homeowners from climbing ladders, which is, unfortunately, necessary to repair your roof. Many types of roofs wear over time, and will require patching and/or other fixes over time. Things like storm damage, high temperatures, and regular freeze and thaw may speed up this process even more. Instead of choosing an asphalt or wood roof, consider a metal roof instead. They're made of incredibly durable and resistant metal, meaning it will completely eliminate the need for repairs. The best part is, metal roofs don't have to look industrial anymore. You can still have the look of shingles, while enjoying the maintenance-free design.
4. Put in a central vacuum system
Put those dust pans away! If you have allergies or just hate lugging a heavy vacuum around to clean your home, a central vacuum system – also known as a ducted vacuum system – will be a lifesaver. With discreet inlets in each room, as well as attachments for every floor type, cleaning your floors will be incredibly easy. A central vacuum system will keep dust particles to a bare minimum, and, as one of the quietest vacuums available, your pets and young children will no longer be disturbed by the noise. Talk about a win all the way around!
5. Invest in LeafFilter Gutter Protection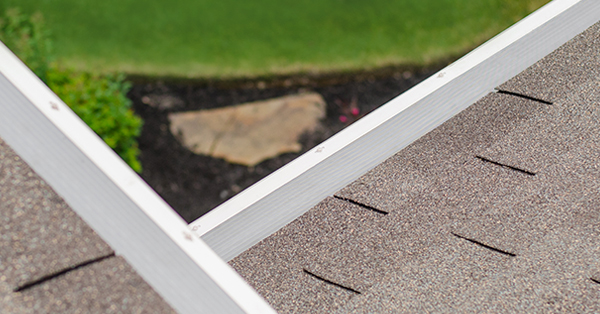 Hate cleaning gutters? You're not alone. But ignoring the issue will only make things worse. Clogged gutters can lead to foundation damage, insect infestation, mold growth, and much more. Luckily, LeafFilter Gutter Protection is here to help. Our micro mesh system allows nothing but water into your gutters, meaning you'll never have to tackle the dirty, disgusting task of gutter cleaning again. Our product comes with a lifetime, transferable warranty, meaning clogged gutters are a thing of the past. Between LeafFilter and your new metal roof, you can put those ladders away for good!
Low-effort home maintenance is a life saver for busy homeowners. These five set it and forget it solutions to the most annoying home maintenance tasks can help. You'll save time, energy, and money by investing in solutions like LeafFilter Gutter Protection, a central vacuum system, and more. Get started now by requesting your free estimate from LeafFilter. Those lazy days of summer are well within reach!