A modern bathroom can improve the overall look and feel of your house while increasing its value. There are plenty of ways you can design a modern, versatile, and easy to maintain bathroom that you and your family will actually enjoy getting ready in. Here is a list of several modern bathroom ideas that are sure to be admired by you, your family, and any guests that may use it.
Add a Luxurious Shower
A luxurious shower can really add some elegance to your bathroom. You can use several rain heads to create a steam shower as well as aromatherapy to ensure that a pleasant and relaxing scent arises every time someone uses it. To add to the luxury of your shower, you can also add mosaic pieces or a seamless glass enclosure.
Less Clutter
When designing a modern bathroom, it's important to keep clutter to a minimum. Bathrooms that are cluttered with personal care products, towels, reading materials, and decorations lose their aesthetic value. To avoid clutter, you can add storage shelves or racks and make use of any cabinet space you may have.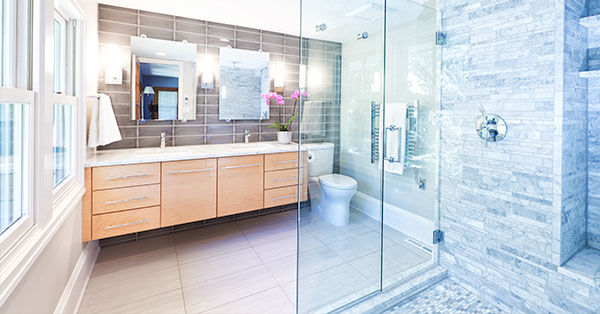 Add New Lighting
Lighting can make or break your bathroom. With such a wide variety of lighting fixtures available on the market today, you are bound to find one that fits in with the theme of your modern bathroom. Replacing unattractive lights with a contemporary lights can draw attention to an area of your bathroom that was unnoticed in the past.
Pay Attention to Floors
If you decide to modernize your bathroom, don't forget about the floors. Often times, bathrooms feature tile or outdated wood floors that require an upgrade. To hide an unsightly floor and save some cash, you can add a bathroom rug that goes with your theme.
Incorporate Accessories
Sometimes, it's the small details that make all the difference in your new bathroom. Incorporating accessories can help you add some personality to your space while updating the overall look of it. Greenery, high-quality bathroom soaps, nice dispensers, candles, and potpourri can all add a nice touch to your bathroom.
Add a New Mirror
One of the vocal points of any bathroom is its mirror or multiple mirrors. A new mirror can provide you with hidden storage and/or make your bathroom look bigger. You can choose from mirrored cabinets, wall mirrors, pivot mirrors, frameless mirrors, venetian mirrors, and a variety of others.
Don't neglect one of the most commonly used rooms in your house. By adding some modern elements to your bathroom, you can turn this room in your house into a beautiful masterpiece that turns heads left and right.