Home improvement needs arise in a number of ways, and while they're often necessary, repair plans can often prove costly. This can be especially true in the bathroom, where expensive fixer-uppers can range from bathtub upgrades to high-end shower installations. If your bathroom is in dire need of some modernization, you certainly don't have to break the bank to get the rejuvenation you're looking for. Check out these ideas to make a better bathroom on a budget without digging deep into your wallet:
The tile touch
From the floor and siding to countertops, adding a touch of tile to the bathroom always works for a quick upgrade. Even if renovating the floor or walls with tile doesn't seem within your budget reach, a tile countertop surrounding your sink can help emphasize your bathroom's colors and provide it a more modern look. You can rummage through a wide variety of designs, patterns and shades of tile, and many retailers carry inexpensive options that are easy for DIY installation.
Reglaze the way
If you're noticing some wear on the finish of your shower, toilet or bathtub, that doesn't mean you have to splurge on a new one. Instead, have a professional reglaze your bathroom appliances to provide you with a shiny-looking surface that will look as if it's brand new. It only takes a few hours, and when the job is done, you won't even recognize your shower or sink! This procedure usually costs a few hundred bucks, depending on the service you choose, but it will certainly save you more money than spending thousands on a new appliance, plus installation.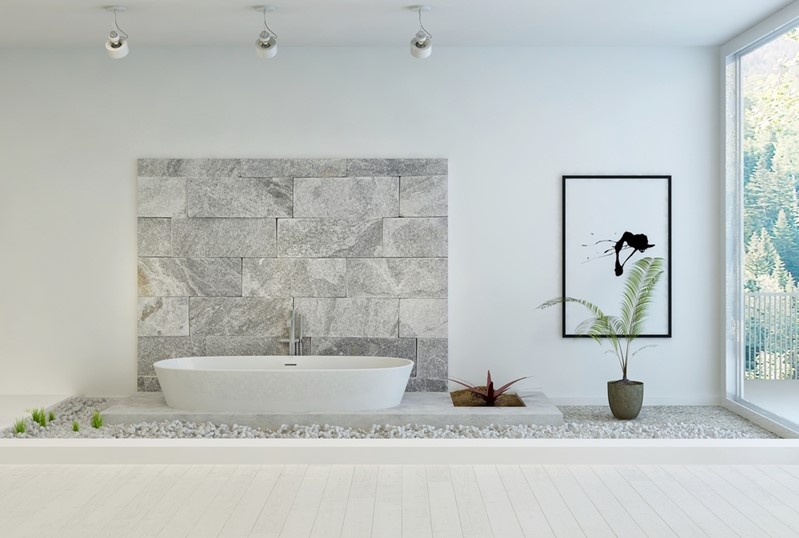 Deck the walls
Sometimes, all a bathroom needs are a few essential gadgets or wallpaper redos to get things up to date. If you think your bathroom's walls are too bland, get creative and pick out a distinct wallpaper design or pattern that accentuates some personality. Perhaps a covering that's more worldly will add some sophistication to the surroundings, such as a map or atlas-themed style of wallpaper, or go with a design that evokes a sense of nature, such as autumn-colored leaves or trees. You can also give your bathroom a boost by adding some new simple furnishings. Elegant towel racks, oval-shaped mirrors or even some vases or plants will certainly add some grace to your bathroom.
"Bathrooms don't have to be boring, so liven things up with a new wall color."
Customize your colors
Maybe all your bathroom needs is a little extra luster or gloss? Bathrooms don't have to be boring, so liven things up by picking out some colors that will help illuminate the place. Paint the walls with some distinct stripes of yellow and red, or capture the tranquility of the ocean with an aqua or teal-colored coating. You can even get more creative by buying some shower curtains or towels that match the decor of your new bathroom's color. This can all add up to a fun afternoon of painting that definitely won't break the bank.
Frame it up
You certainly don't have to overthink it when it comes to subtle bathroom upgrades. A simple and cheap way to spruce up the visual aspect of your bathroom is to start hanging up some stylish framed artwork or photographs. This is obviously an option that requires no maintenance or repair work, besides possibly a hammer and nail. If you decide to hang some artwork on the walls, create a theme for your bathroom. Paintings of starfish or vibrant members of the sea can visually accommodate an aquatic-colored interior, where brighter colored-bathrooms, such as yellow or red, can go with a beach-themed design of ocean or boat drawings.