Why Hire a Professional Gutter Installer
Updated
November 18, 2016
Your gutters are one of the most critical components of your home. They are designed to protect it from basement flooding, roofing damage, landscape erosion, foundation damage, mold, a heaving driveway, and more.
In order for your gutter system to do its job, your gutters must be installed properly. For this reason, you should hire a professional gutter installer rather than taking on the job of gutter installation yourself. Here are several reasons why you should invest in a professional gutter installer rather than attempting to install your gutter system on your own:
Safety
Perhaps the most important reason to hire gutter installers is to keep you and your family safe. Installing gutters requires standing on tall ladders while handing heavy power equipment and tools. Even if you believe you are skilled at DIY home maintenance projects, falling off a ladder and suffering from serious injuries is still a possibility. DIY gutter installation is not worth the safety risk.
Expertise
Since you are likely to have little experience in installing gutters, you won't be able to notice problems that can be pointed out by installation professionals. For example, if your shingles are loose or your fascia is rotting, a professional will be able to let you know and repair these issues that may have gone unnoticed if you were installing your gutter system.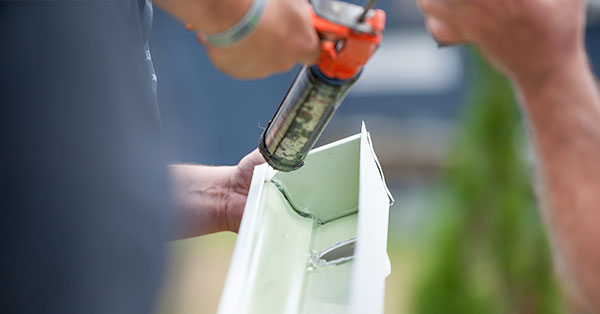 Save Time
Most homeowners don't realize just how time consuming DIY gutter installation can be. Chances are high that you have work, social events, and other commitments. Instead of spending all of your time installing gutters, count on a professional who has the knowledge and experience to get the job completed in a quick and efficient manner.
Save Money
Contrary to popular belief, DIY gutter installation is not always less expensive than professional gutter installation. The material costs of downspouts, clips, and other items are pricey for homeowners who do not have access to wholesale prices. Gutter installers are able to purchase materials at wholesale prices and in turn, save you money. A poor gutter installation job can also cost you in the future.
Professional Gutter Installation by LeafFilter
If you're in need of new gutters, the LeafFilter gutter installers would be more than happy to install them. In addition, we will perform a gutter guard installation service so that your new gutters can be free of clogs. For further details on LeafFilter gutter and gutter guard installation, request a free estimate today.