Your home is your largest investment. That's why, you should do whatever you can to protect it from home damages that can disrupt your life and cost you thousands of dollars in repairs. One of the easiest ways to keep your home free of damages is to ensure your gutters are working properly.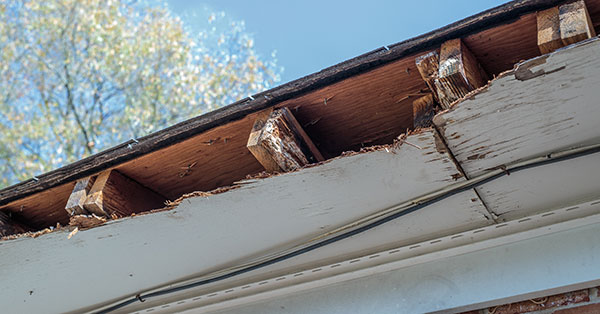 What Do Gutters Do?
Gutters are specifically designed to divert rainwater away from your home and prevent serious issues from arising. In order for them to perform their intended function, they must be clear of leaves, pine needles, shingle grit, and other clogging debris. In addition, they should be properly pitched so they can encourage the flow of rainwater.
Common Home Damages Clogged Gutters Cause
When your gutters are clogged and unable to properly divert water away from your home, you increase your risk for serious damages such as:
• Foundation damage
• Heaving driveway
• Mold
• Basement flooding
• Rotting fascia and soffit
• Stagnant water and mosquitos
• Landscape issues
• Roofing damage
Preventing Home Damages is Easy
The good news is that regularly maintaining your gutters can keep your them clog-free and working properly. Although you can climb a ladder to clean your gutters a few times a year, this daunting chore is dangerous. You may believe that the only alternative to climbing a ladder to clean your gutters is investing in gutter cleaning services. While this is an option, it can become expensive over the lifetime of your home and only temporarily relieve your gutters of clogs.
If you'd like to avoid gutter cleaning forever and find a permanent solution to clogged gutters, you can't go wrong with the LeafFilter gutter guard system. Once installed over your existing gutters, our micromesh gutter guards will keep all debris out of your gutters.With LeafFilter, you can enjoy the peace of mind of clog-free gutters for as long as you remain in your home. You don't have to figure out whether it's time to clean your gutters or worry about an unexpected home damage arising because your gutters are in poor shape.
Request a Free Estimate
For more information on the LeafFilter gutter guard system, request a free estimate today. We look forward to helping you keep your gutters in tip-top shape.