If your rain gutters are sagging, it might be time for a little gutter maintenance. Over time, sagging gutters can cause leaks, which lead to even bigger problems like a compromised foundation and/or roof, insect infestation, mold buildup, and much more. But what, exactly, causes gutters to sag in the first place? There are many possible causes. Here are the top 3:
1. Improper gutter sizing
Gutters and downspouts come in many sizes. You might think this is purely for cosmetic reasons, but it's also very practical. Many homes have 5 inch gutters, which is usually enough to properly whisk the rainwater away. However, there are a few factors that may influence the effectiveness of your gutters, which should be considered before choosing one size over another.
The first factor is roof slope. If you have a steeply sloped roof, you'll need bigger gutters to accommodate the rainwater that will rush down the roof. The other factor is the average amount of rainfall in your area. If your area frequently experiences heavy rainfall, a smaller sized gutter won't be able to handle the accumulating rainwater. You'll need a bigger sized gutter for this instead. Similarly, if your downspouts aren't large enough to accommodate the amount of rainfall, you're going to run into issues.
The main issue with improperly sized gutters is that the gutters will fill with water and put a strain on the whole system. This can lead to the wearing down of gutter hangers over time, which will cause your gutters to sag. Unfortunately, simple gutter maintenance won't solve this problem.
If your gutters don't already have enough room to accommodate water to prevent sagging gutters, you'll need to have new gutters installed to prevent sagging issues. LeafFilter not only installs on existing gutters, but our professionals can also install brand new seamless gutters, which are customized to fit your needs.
2. Inadequate support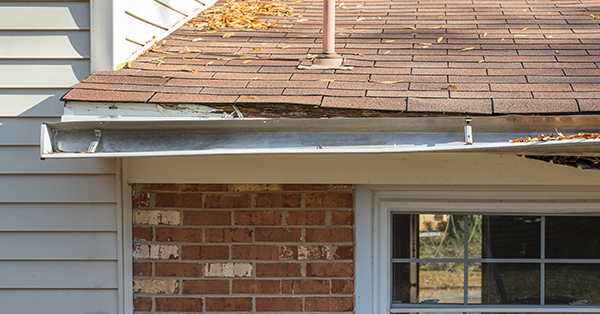 Gutter hangers are an essential part of your rain gutter system. They provide support and strength. If your gutters don't have enough support, you're going to experience sagging. You may not have enough support if your gutter hangers are spaced too far apart, or if the screws aren't long enough to anchor into the fascia. A simple rain gutter cleaning service may not have the tools or know-how to properly support your gutters. LeafFilter, on the other hand, certainly does.
Before each LeafFilter installation, our gutter professionals will realign and reinforce your gutters using internal aluminum hangers secured by 1 1/2 inch wood screws drilled directly through your fascia board. This means that your gutters will perform even better than they did when they were brand new.
3. Clogged gutters
Clogged gutters are the number one culprit of gutter sagging. Debris buildup is extremely heavy, which puts strain on your gutter system. Debris isn't always visible from the ground, but if you haven't hired a rain gutter cleaning service in a while, it's a good bet this is the source of your sagging problem.
While a rain gutter cleaning service may help you temporarily fix your clogged gutter issues, they won't be able to help you realign your gutters or prevent the problem from happening all over again the next time your gutters fill with debris. Luckily, LeafFilter can provide the permanent solution you've been searching for by prevent debris from entering your gutters altogether.
Gutter sagging is a common problem homeowners face. Unfortunately, it can be a detriment to your curb appeal, and cause severe and costly damage in the long run. Sometimes, simple gutter maintenance will help the problem, but, depending on the source of your problem, you may need a more extensive solution. That's why it's important to consult the gutter experts at LeafFilter to determine the best fix for your gutter sagging problem. Fill out the free estimate request form to request your consultation today.