When was the last time you looked at your gutters? Like, really looked at them? We're guessing it's been awhile. If you haven't taken the opportunity to give your gutters a closer look, you may want to do so, soon. You may not even realize you need gutter replacement!
Gutters are essential for diverting water away from your home. If left neglected, your home could experience water-related damages like foundation issues, basement flooding, mold and mildew problems, and more! You certainly would not want to rely on a gutter system that isn't effective. Here are some signs that you should look for to determine if it is time for gutter replacement.
1. Cracks, Holes, Rust Spots
If you have a few cracks and holes, these may be minor and could just take a bit of sealant and a little flashing to fix. However, if you notice more than a dozen areas that have cracks and holes, you may want to opt for an entirely new gutter system.
2. Standing Water in your Gutters
Standing water in your gutters is a sure sign of ineffective gutters. This means they are not effectively carrying the water away from your home. Sometimes your gutter system may need a realignment in order to diver the water properly away from your home. In other cases, you may need all new gutters. Find a professional and experienced gutter contractor who can make recommendations based on your situation.
Pro Tip: LeafFilter provides a free gutter alignment with every installation!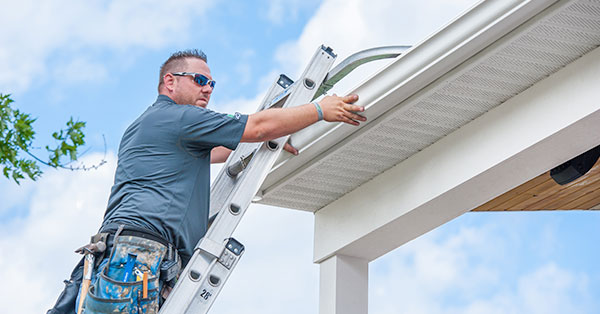 3. Gaps Between Gutter Sections
Your gutters act as a channel and are only effective if they are fastened securely together. If they begin separating, and don't stay together for long after being fixed, it may be time to invest in gutter replacement.
4. Gutters that Pull Away from the Roof
Gutters that aren't affixed to your roofline can pose a serious threat to your home. This will allow water to drip down the sides of your home, resulting in soffit and fascia damage, foundation issues, basement flooding, mold and mildew, and more. It's like you don't even have any gutters at all!
You can try to fix these issues, but if spaces continue to appear between your roofline and your gutters, but in some cases, it's better to get all new gutters.
5. Peeling Paint
If you notice that the paint on your home is peeling, this is an indication that your gutters aren't working. It means you have an overflow issue as water runs down the back of your gutter along the exterior of your home. Your gutters could be worn out, misaligned, or clogged.
How to Protect your Gutters with Gutter Screens
Tired of cleaning your gutters every year? You're not alone. Gutter maintenance is important, but can be tiring, dirty, and dangerous. Fortunately, there is a solution. A micromesh gutter screen will ensure that nothing but water will enter your gutters, keeping debris, shingle grit, pine needles, and leaves out of your gutters. This will ensure that they are effective for years to come.
LeafFilter Gutter Protection is the #1 gutter screen on the market. Once installed onto your gutters, you'll never have to worry about gutter cleaning again! During the time of your quick, 15 minute estimate, we will review your current system and provide recommendations based on your home's unique gutter system.
The great thing about LeafFilter is that we can either install on your existing gutters. However, if your gutters are in rough shape, we can replace them when we install LeafFilter. (This is unlike other one-piece gutter systems that require completely new gutter replacement)!
Request a free estimate from LeafFilter and eliminate gutter cleaning for life!