Soffits are that narrow strip of ceiling material that covers the underside of the roof eaves. This area is often neglected by homeowners until a serious issue occurs like rotting or decaying wood.
Unfortunately, rotted soffit is usually caused by leaks that drip down and collect in the gutters and on the soffit boards. It can also be caused by bad weather and pesky animals. Soffits play an important role in your home because they cover the eaves and protect the rafters from weather damage. Without soffits, your home might experience hazardous mold buildup or dangerous rotting beams.
If you suspect your soffit is beginning to rot, it's important to take care of it as quickly as possible to avoid further damage to your home. Read on to learn how to inspect your soffit and repair a rotted soffit.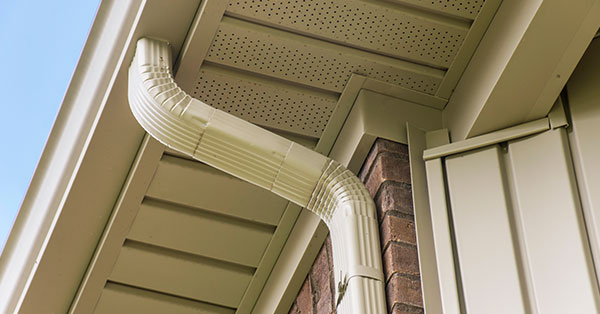 Inspecting your Soffit
The first step is to inspect your soffit and look for signs of damage. You might notice that your soffit looks cracked and curled or some wood is completely missing from the soffit. Perhaps there are animals sneaking into your attic or water intrusion around your fascia board. These are the tell-tale signs that may require soffit repair.
Steps to Repairing your Soffit
Follow these steps for successful soffit repair.
Eliminate shingle mold: Using a flat bar, remove the mold on your shingles.
Remove the Fascia: You can actually reuse your fascia board if it remains intact while you remove it. You can use your flat bar to remove the fascia board.
Remove the soffit's rotting wood: Using your hands, remove the soffit's rotting wood. Be wary of any animals that may be nesting in your soffit.
Cut Plywood for the new soffit
Examine the rafter tails: Chances are good that if your fascia and soffit were damaged, your rafter tails are too. If they show any signs of rot, cut off the damaged areas with a reciprocating saw. Cut a matching length of lumber from a piece of pressure-treated lumber, using a circular saw.
Install the new rafter: Clamp the new rafter tail to a 1-inch backboard and use a screw to install.
Prep your plywood: For your new soffit, use a waxy sealant and coat both sides and all the edges of the new wood. This will help protect it from water damage.
Attach the soffit: Install the underside of the eave using a screw. Caulk any holes or areas that you think may hold moisture before moving on.
Attach the fascia: Attach the fascia board by using galvanized nails.
Install the shingle mold along the top of the new fascia
Preventing Soffit Damage with Gutter Leaf Covers
Installing gutter leaf covers is the best way to prevent pesky soffit repairs.
LeafFilter is the top rated gutter cover on the market. Our micromesh filter is only 50 microns fine, so nothing but water will enter your gutters – guaranteed! Not only will you protect your gutters with LeafFilter, but also prevent serious and costly water related issues like foundation damage, structural issues and more. Learn more about how LeafFilter can help you avoid the damage of clogged gutters.