Installing an energy efficient roof can put money back into your pocket – literally! If you installed a new energy efficient roof in the past two years, you may qualify for an energy tax credit from the federal government.
Homeowners can receive 10% of the cost of their new roof up to $500, excluding installation costs. This credit is designed to encourage homeowners to make green home improvements that save money and help lower the general demand for and consumptions of electricity.
What is Energy Efficient Roofing?
The energy tax credit is focused on "cool roofing." Cool roofing reflects the sun's heat back to the sky, rather than absorbing it. This technology is designed to make the roof stay cooler than regular roofing. Additionally, it reduces the amount of heat transferred to your home, which makes it more energy efficient than typical roofing materials.
What Types of Roofing Qualified for the Residential Energy Tax Credit?
There are two types of roofs that will qualify for a tax credit: Metal Roofing and Asphalt Roofing.
Metal Roofing: Metal roofing that has been coated with Energy Star certified paint that has been specifically designed to reduce heat gain qualifies for this tax credit.
Although white is the most effective coating, it may not fit into the look and feel of the home. Fortunately, there is an array of options to choose from for your new roof, so chances are good you'll find a color that suits your home's exterior. Your local roofing contractor will be able to see if your metal roof qualifies for the tax credit and if you need a roof replacement.
Asphalt Roofing: Asphalt roofing is created with cooling granules. This type of roof also qualifies for a tax deduction. This type of roofing looks just like regular asphalt roofing, however, the roofing granules are treated with proprietary coating. This coating reflects the sun's rays away from your home, instead of absorbing it. In order to qualify for the tax deduction, asphalt materials can be either traditional shingles or modified bitumen (rolled asphalt sheets).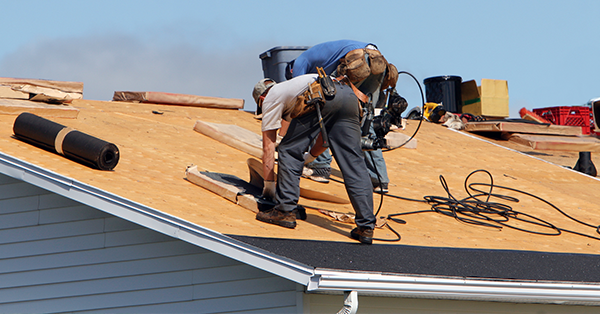 Roof Replacements and Savings
Aside from the energy tax credit you can receive by replacing your roof, you can save on energy costs by switching to an Energy Star certified roof.
In fact, if you live in the hot South or Southwest, you can save anywhere from 7% to 15% on your cooling costs with energy-efficient materials. In other words, if you pay $300 a month to cool your home, you can cut your monthly bill by as much as $45.
Although you may pay more in heating during the winter months, it is likely you'll make up the difference on your air conditioning costs, especially if you live in an area that relies mostly on your air conditioning unit.
When is a Roof Replacement Not Worth it?
If your roof is in perfectly good shape, it's worth noting that the savings and tax break may not be good enough reasons to get a new one. However, there are other options for receiving a tax credit.
You can add a roof coating, which is painted over your existing roof that offers insulation and sun reflection. This won't qualify for a federal tax credit, but it does cost 75% less than replacing a roof.
On the other hand, you can add more insulation to your attic. This home improvement task takes about a day to complete, however, homeowners will be able to qualify for a federal tax credit.
Gutter Guards and Roof Replacement
It's important to note, since we are the gutter guard experts, that some gutter protection systems require installation under your first row of shingles. This can void your roof warranty. Plus, if you go to replace your roof, it can create problems with your system.
When compare gutter guards, be sure to consider the gutter protection system's installation requirements. LeafFilter is the only gutter guard that won't disturb your roof or shingles. Therefore, if you need to replace your roof in the future, you won't have any headaches or issues associated with your gutters.
Learn more about LeafFilter's installation process or request a free estimate to see how LeafFilter can protect your home from the damage of clogged gutters.