For many homeowners, gutters are an out of sight, out of mind component of their home. They typically won't pay any mind to their rain gutters until they notice water overflowing, or see leaves poking over the tops. At this point, it's a pretty good bet that what they're seeing is actually clogged rain gutters – a very bad sign. Clogged rain gutters can cause major home damage, such as cracked foundation, mold and mildew growth, insect infestation, and much more. This can become costly and time consuming to repair. But it's all easily preventable with the help of LeafFilter – a micro mesh leaf gutter guard, specially designed to keep all that debris out of your gutters for life.
So, if it can help save homeowners the headache of fixing major damage, why do people overlook LeafFilter as home upgrade? Here are a few possible reasons for this:
1. They're still in the out of sight, out of mind mindset
Some homeowners prefer to push the worry of clogged rain gutters out of their mind, even after encountering obvious signs of home damage. Instead of tackling the problem head-on, they avoid it as long as they possibly can. This avoidance can lead to irreversible damage, like compromising the structural integrity of the home. This denial can cost tens of thousands of dollars more in the long run. However, it also allows homeowners to avoid the dirty, disgusting chore of gutter cleaning just a little bit longer. If you're in this group, know that you're essentially playing a game of Russian roulette to avoid giving your gutters the attention they need. And the longer you play that game, the greater your chances of losing big. Stop while you're still ahead, and invest in LeafFilter.
2. They're prioritizing other home improvement projects
It's easy to get caught up in a whirlwind of back-to-back home improvement projects, and lose sight of the big picture. Most homeowners have a miles-long wish list of home upgrades. Some may be far-off goals, while others are merely weekend projects. Regardless, investing in LeafFilter somehow falls to the bottom of their list of priorities. Are you in this group? Well, you may want to rearrange your honey-do list, and put LeafFilter at the top. By keeping your rain gutters clog-free, you can prevent serious damages from occurring in the future, which, as you know, can be severely costly. For this reason, we hope that you leaf gutter guards are a worthy investment on your home. You'll still be able to make all those other home upgrades, but after installing LeafFilter, you won't have to worry about having to squeeze in emergency repairs.
3. They simply don't know about LeafFilter yet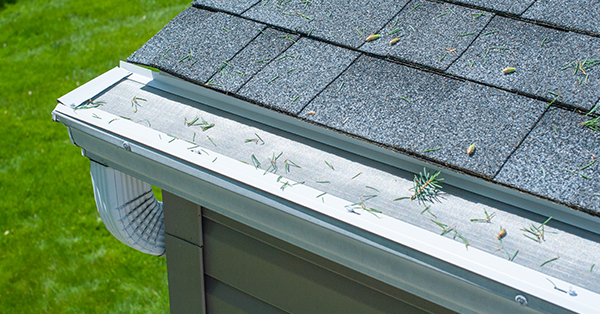 Cleaning rain gutters is the typical solution homeowners turn to when they experience clogged gutters. Unfortunately, that's only a temporary solution to a permanent problem – and that can be frustrating! Many people don't even know there's a permanent solution out there – leaf gutter guards. But you're in the right place to learn about them now! Get all the facts about our product. Then, request your free, no-obligation estimate by filling out the free estimate form. Every home is unique, which is why one of our rain gutter experts will come speak with you about the many ways LeafFilter can help with your clogged rain gutter issues. Oh, and if you know any other homeowners experiencing clogged rain gutter issues, help them out by introducing them to LeafFilter, too!
If you're experiencing any issues due to clogged gutters, leaf gutter guards can help. Be sure to give your rain gutters the attention they need, prioritize your home improvement projects properly, and learn about new solutions to existing problems in order to get your home in tip top shape.