With winter fast approaching, and the thought of icicles on the mind, many homeowners are just beginning to think about their gutters. The biggest question the gutter experts here at LeafFilter are regularly asked is, "How do I keep gutters flowing through the winter?" This is an important question, as proper water diversion can prevent several devastating home disasters, such as foundation and roof damage, mold and mildew growth, pest infestation, and more.
Clogged gutters, ice dams, and damaged gutters, among other issues, can all impact your gutter system's ability to properly divert water. Here are just a few of the ways you can keep gutters flowing through the winter:
1. Clean the gutters
Clogged gutters are the number one culprit of ice dams and improper water diversion. In the winter, when gutters are already clogged, any amount of snow can cause big problems. One freeze and thaw cycle can lead to extremely heavy ice dams in the gutter system. This impacts water diversion in many ways. First, the sheer weight of ice dams in gutters can cause them to detach from the home, warp, or otherwise become damaged. These situations all impact the flow of water through the gutters, and cause a snowball effect of home damages.
Another way ice dams impact the flow of water is in the amount of space they take up in the gutter system. With layers of debris and ice packed into the trough, limited space remains for water to run through the system. Downspouts may also become blocked, causing any water that can actually enter the gutter to back up and overflow.
This winter, remember, clogged gutters lead to ice dams, which spell major trouble for you as the homeowner. Be proactive by having the gutters cleaned before the first good freeze of the winter. This will ensure that your gutters will be able to handle any sort of precipitation.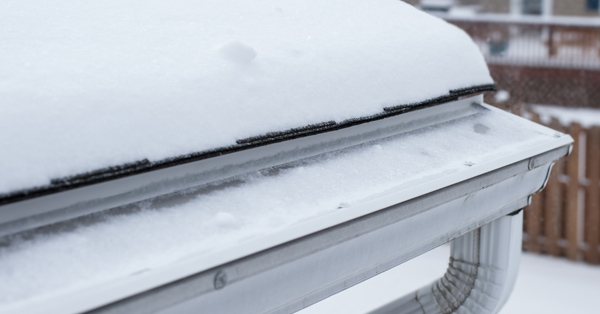 2. Realign the gutter system
A misaligned gutter system can also spell trouble in the realm of water diversion. Gutters with a steep slope can cause a mini avalanche of snow from the gutters, whereas gutters with no slope at all won't be able to divert any precipitation. Improper diversion can cause water to pool at the base of your home, impacting your foundation, landscaping, concrete driveway, and more.
If you notice your gutters seem to be misaligned, be warned. There isn't a one-size-fits-all approach to realigning gutters. Specific calculations must be made to determine how your gutters should slope base off of your individual home's roof pitch, number of downspouts, and more. A professional gutter repair company can ensure your gutters are properly aligned without any uncertainty.
3. Install LeafFilter Gutter Protection
You'll reap multiple benefits by having LeafFilter Gutter Protection installed on your gutter system. Perhaps the top benefit of installing LeafFilter is the complete elimination of clogged gutters. You'll never have to worry about clogged gutters leading to ice dams again.
Another benefit of installing LeafFilter is the complimentary services that come with installation. LeafFilter gutter professionals will clean, seal, and realign your gutters as a courtesy to ensure your entire system is performing to the best of its ability prior to the product installation.
And finally, LeafFilter is backed by a lifetime, transferable warranty. That means that this winter, and every season to come, you won't have to worry whether your gutters will flow properly.
Before winter hits full force, call the pros at LeafFilter to get your gutter system in tip top shape. By performing a few preventative tasks, you'll ensure that water will flow freely through the system this winter and beyond. Fill out the form on our website to get your free, no obligation quote today.