Your gutters may be the last thing on your mind when winter weather hits, but it's important to be prepared. Clogged and sagging gutters can becoming even more damaged with the weight of snow and ice, leading to serious and costly home damage. Here are some tips and tricks for prepping your gutters for the winter.
Prep your Gutters for the Winter
1. Clean the leaves and debris out of your gutters
Keeping your gutters clear and clog free is not only important in the fall, but should be at the top of your list in the winter too. When it snows, the added weight of snow and ice could cause your gutters to detach and fall to the ground. Pay close attention to corners and junctions where leaves tend to accumulate. Use these gutter cleaning tips for cleaning your gutters.
2. Inspect your gutters for wear and tear
Seal cracks, check joints, and ensure your gutters are in tip-top shape for the winter months ahead. Inspect for loose or missing fasteners, which could cause the gutter or downspout to blow-off the roof and cause damage to your home, your surroundings, or people below.
3. Realign your gutters
You'll want to ensure your gutters are realigned properly to prevent standing water in your gutters.
4. Install Gutter Guards
A gutter protection system can keep leaves and debris out of your gutters and strengthen your entire gutter system. LeafFilter is installed with internal hidden hangers every 12 inches to hold up to the heavy loads of snow and ice. This will ensure your gutters stay strong all winter long.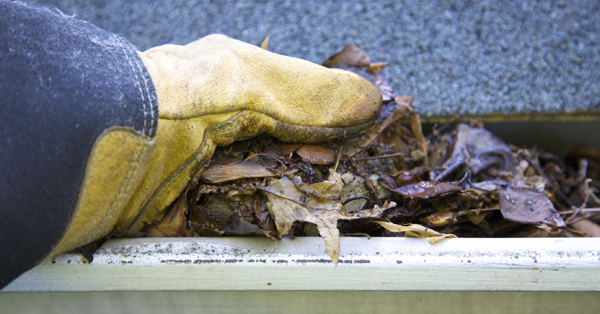 5. Add downspout extensions.
Send melting ice and snow farther away from the base of your home by extending the length of the downspouts on your home. We recommend keeping gutter extensions 3 to 5 feet away from your home to prevent water from seeping into areas it shouldn't like your basement and foundation of your home.
6. Check for structural damage
Examine your fascia, siding, and foundation for signs of staining, rotting, or other related damages. If you suspect water damage has already occurred, determine the source of water flow and make repairs as needed.
How LeafFilter can Protect your Home During Winter
Gutter maintenance can be a hassle — and dangerous, too! If you are looking for a hands-free solution to gutter maintenance, check out LeafFilter Gutter Protection. LeafFilter's micromesh gutter guards are installed on your existing gutters, preventing leaves and debris from entering and accumulating, and providing protection to your entire home 365 days a year. Find out how LeafFilter works and request a free estimate.