Maintaining your rain gutters and downspouts isn't just important to the health of your gutter system — it's important to the entire health of your home.
On average, homeowners in the US will receive 30 inches of rain per year. When rain isn't effectively diverted away from your home, it can cause foundation damage, structural issues, and basement flooding — all problems that can cost a pretty penny.
By taking care of your downspouts, you'll save thousands of dollars in foundation repairs. When it comes to gutters, LeafFilter knows a thing or two about maintenance and preventative care. Prior to installing downspouts, follow these steps to maintain your downspouts for the life of your home.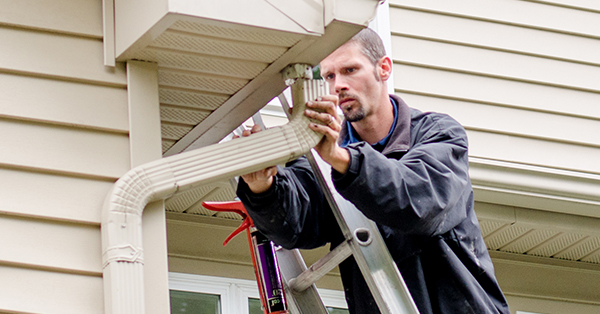 Quick Inspection
If you're not too familiar with your downspouts, it's a good idea to take a close look at where your downspout is dumping water. If water is flowing away from your home, you're in good shape. If you notice water pooling around the foundation of your home, this could be a serious problem, especially if it is left untouched.
Some homeowners might be totally missing downspouts. Installing downspouts should be left to the experts to ensure that they are properly secured and redirecting water effectively away from your home.
Redirect Water Like a Pro
If your downspouts are dumping water less than five feet away from your home, redirect the water with gutter extensions. This will ensure water is safely diverted away from your home and isn't pooling around the foundation of your home or seeping into your basement.
What if My Gutters and Downspouts are Clogged?
Some homeowners may notice that their rain gutters and downspouts are clogged and that no water is being redirected away from the home. This can cause serious issues as water can pour over the sides of the gutter and pool around your foundation.
Another tell-tale sign that your downspout is clogged is if water is pooling near the drop outlet. You will need to clean out the debris using a plumber's snake or drain auger. After you clear out the downspout, run some water down the downspout to see if you've successfully cleared out the blockage.
Related Article: 6 Signs You Have Clogged Gutters
What if I have a Downspout Leak?
During your inspection if you notice that the back of the downspout is leaking, it's likely that the rear seam has been damaged and the downspout will need to be replaced.
If you notice some small holes, often call pinholes which are caused by rust and corrosion, you can effectively seal them up with roofing cement. Slightly larger holes will have to be patched up with metal flashing.
How Often Do I need to Check My Downspouts?
While rain gutter and downspouts should be inspected twice a year, it's a good idea to keep an eye on your downspouts at various points throughout the year as anything can go wrong with an open gutter system.
Protect your Gutters & Downspouts with LeafFilter
Maintaining your rain gutters and downspouts can be overwhelming. Climbing the ladder to clean your gutters and trying to clear clogs from a downspout can be a struggle. If you are looking for a hands-free solution, trust the experts at LeafFilter Gutter Protection.
LeafFilter's gutter guard installers will handle all of your gutters needs. We will clean and realign your gutters, seal any leaks, and ensure your rain gutters and downspouts are in tip-top shape before installing our revolutionary micromesh gutter protection system.
At LeafFilter it's our top priority to provide our customers with the best gutter guard on the market, right along with the best customer service. With our lifetime, transferable warranty, you'll never have to worry about gutter cleaning again – we guarantee it!