Most homeowners see their gutters as a boring necessity to protect their home from water damage. But, with a little extra thought and some additional flair, this essential part of your home can become anything but boring. There are several ways to customize your gutters, so read on to get a few fun ideas!
Rain Chain
Rain chains are all the rage right now. They are decorative and functional, making for the perfect way to customize your gutters. A rain chain can be made of metals, like copper, glass, stone, and even upcycled materials. Many places sell rain chains, but it's also fun to make your own. Get creative, and bring in design elements from the rest of your yard to tie it all together.
While they may be pretty, rain chains do serve a purpose. They are an alternative approach to water diversion. A rain chain will typically replace a downspout, which may be a hazard to your foundation. Be sure to put something underneath your rain chain, like a flowerpot or rain barrel, in order to collect the water before it puddles at your foundation.
Decorative Downspout Diverter
If ditching your downspout seems a little risky to you (we don't blame you – downspouts play an important role in protecting your home!), you can still bring a little creativity to the area by installing a decorative downspout diverter, sometimes known as a gutter diverter. These fully functional decorations attach to the base of your existing downspout, and aid in proper water diversion. Some decorative downspout diverters are playful, and may incorporate the natural flow of the water to include scenes like frogs jumping in puddles or a boy fishing in a river. Others are more natural looking with pebbles or slate, for instance. A gutter diverter is easy to install yourself. They simply slide the gutter diverter right over the base of your existing downspout. Just be careful not to dent or puncture the downspout in the process!
Lighting
Proper lighting can bring a bit of dramatic flair to your home. Since your gutters are too high to reach from the ground, it may be beneficial to hire a professional electrician to install lighting up there. In addition to keeping you off the dangerous ladder, they will also be better equipped to properly wire your new lighting, and ensure that the electrical components won't be disturbed by the elements.
Popular options for lighting include recess lighting in the soffit, and solar lights that attach to your gutters with brackets. For a simply DIY solution, you could also install a spotlight in your garden, and aim it upward to illuminate your home.
Rain Barrel
Rain barrels serve a dual function. They are perfect for recycling rain water, but they can also be a beautiful focal point in your garden. Rain barrels can be made of non-toxic plastic, wood, or other environmentally friendly material. They come in fun shapes and designs, which you can choose based off of your surrounding design elements. If you already have a rain barrel, but it's not made to look pretty, you can always paint it using exterior-safe paint.
Dry Creek Bed or Trench
Rain water diversion is essential to keeping your foundation safe from the elements. You can get creative with your rain water diversion solution by installing an eye catching dry creek bed or decorative trench. A dry creek bed can be made by arranging natural stone, like river rock, slate, or sandstone, in a path that leads away from your gutters. You may also choose to build a small, lined trench, which takes the water diversion underground. When covering the trench, you can use decorate grates to make it look more attractive. These water diversion solutions effectively guide water away from your home while still maintaining your style.
Sleek Gutter Guard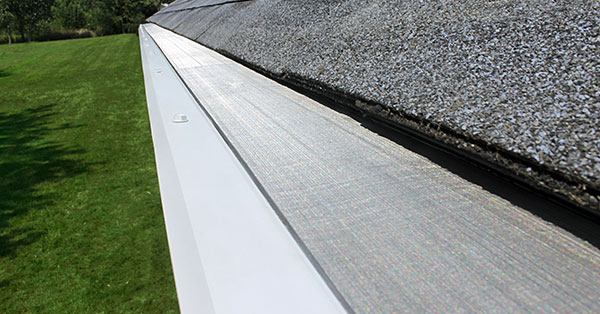 Clogged gutters are unsightly, and detract from your home's curb appeal. The good news is, you can permanently put a stop to clogged gutters with the help of LeafFilter. This sleek, low profile gutter guard keeps your gutters clean, and doesn't detract from your other design elements. While other types of gutter guard are bulky, and visible from the ground, LeafFilter is perfectly designed to sit at a nearly invisible 11 degree angle. With LeafFilter, you can enjoy the benefits of clog-free gutters without having to look at an unsightly monstrosity.
Customizing gutters is a fun way to add some personality to your home. A pop of color or a functional design element will set your gutters apart from the cookie cutter gutters in your neighborhood. Get creative and have fun with it – the opportunities for customization are practically endless! And don't forget to request your free, no-obligation estimate from LeafFilter today.