Every season, you climb up the ladder to clean your gutters of the dirty and disgusting leaves, twigs and other debris. It's tiring climbing the ladder to clean your gutters and you've probably always wondered if there was a solution to eliminate the need for this dread household task.
Fortunately, there is. When properly installed, some gutter guards are effective at keeping your gutters and downspout extension clean and clog-free. However, with so many different styles of gutter guards on the market, choosing one for your home can be a challenge. In this article, we discuss the different types of gutter guards, and their pros and cons, so that you can find an effective solution for your home.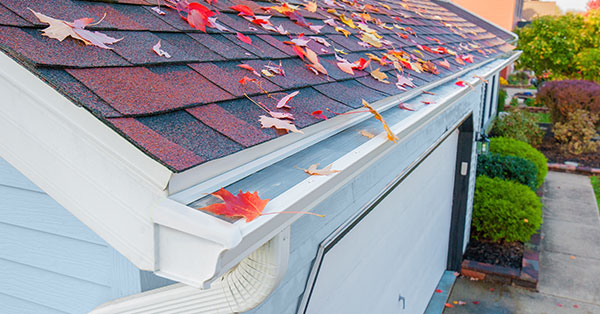 What Are the Different Types of Gutter Guards?
There are numerous different types of gutter guards on the market:
Reverse Curve: Reverse curve gutter guards feature a long hole that runs the entire length of the gutter. The intention is for water to follow the curve of the guard, while leaves and other debris are diverted over the subtle drip edge. Unfortunately, these systems often fall short of expectations, as the large opening allows to debris to enter and clog gutters. In addition, many gutter cover products are manufactured in a one-piece system, therefore, they require gutter replacement, instead of installing right on top of your existing gutters.
Foam: Foam gutter guards are made of a plastic that fit directly into the gutter. These are easy to install yourself, however, they are not void of issues. Foam gutter guards trap seeds, leaves, and other debris. With the addition of water, gutter gardens could start to form in your gutters, creating even more issues! Most foam gutter guards can also cause mold and mildew problems as they trap moisture inside of the gutter. This DIY products do not include a warranty, either, so you'll be on your own if the product fails you.
Screen Gutter Covers: Screen gutter covers feature small or large holes, which are supposed to keep out debris. Unfortunately, since there are still small openings located on top of the gutter cover, debris will still enter and clog your gutters and downspout extension. In many cases, these gutters have to be removed in order to clean the inside of the gutter.
Brush Inserts: Like a big pipe cleaner, brush gutter guards can be placed right inside of a gutter by the homeowner. The intent is to keep leaves and debris out of the gutter, while water is allowed to flow freely through the gutter and downspout extension, away from the home. Unfortunately, because of the pipe cleaner material, large and small debris will get stuck on top of the product. Seasonally, homeowners will have to climb the ladder to shake the product and free the debris.
Micromesh: The most popular and effective gutter guard on the market is the micromesh product. These gutter guards install right on top of your existing gutters and feature a mesh material to keep out all leaves and debris. However, it's important to realize that not all micromesh gutter guards are created equal. Some micromesh gutter guards will require installation under your first row of shingles. This can create a number of water related problems and it will even void your roof warranty. In addition, some micromesh gutter covers do not offer a lifetime, transferable warranty. Instead, they may offer a 20 or 30 warranty that won't even transfer to the next homeowner.
Why Keep Gutters and Downspout Extension Clear and Clog-Free
Gutter cleaning may seem like a pain, but you may not even realize why it's so important. Gutters are important for diverting water through your downspout extension and away from your home, so you can mitigate serious and costly water damages such as:
Landscape erosion
Foundation damage
Cracked structures
Mold and mildew issues
Flooded Basement
…and more!
For these reasons, an effective gutter guard becomes even more important for keeping your home protected. By choosing the wrong type of gutter guard, you could end up with a number of different headaches.
Related: Here are five things you should look for when choosing a gutter guard.
Contact LeafFilter for the Best Gutter Guards on the Market
If you are looking for a solution to end gutter cleaning, contact the experts at LeafFilter Gutter Protection.
LeafFilter's revolutionary micromesh product installs right on top of your existing gutters and won't impact your roof or shingles in any way. With a lifetime, transferable warranty, you'll enjoy the peace of mind knowing your gutters – and entire home — are protected for life!
Fill out the form on our website for a free estimate or call us at 1-844-211-4281.