Gutters are responsible for directing rainwater away from your house. When they are functioning properly, they can save you from a variety of costly and annoying home damages such as basement flooding, landscape erosion, mold, and a heaving driveway.
If you are in need of new home gutters, you may be wondering which ones are right for you. Since there are numerous gutter types on the market, LeafFilter has created this handy guide to help you understand the different types of gutters available so that you can choose the ideal gutters for your particular home.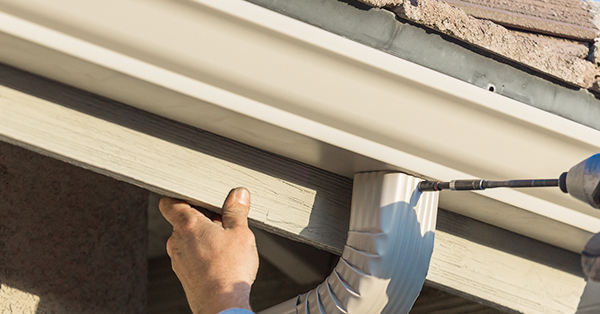 Aluminum Gutters
Aluminum gutters are a popular option because they are affordable, easy to install, and resistant to a wide array of weather conditions. In addition, they come in a plethora of colors and offer excellent curb appeal.
The downside of aluminum gutters is that high winds and flying debris can bend and damage them, making aluminum gutters more susceptible to leaks. If you choose aluminum gutters, you should be okay with the fact that they require more maintenance that other types of gutter systems.
Stainless Steel Gutters
Since they offer low curb appeal and require maintenance to prevent rust and corrosion, stainless steel gutters are not typically chosen for home gutters. However, if you do opt for this type of gutter system, you can expect it to withstand severe weather conditions and last a lifetime if you maintain it properly.
Copper Gutters
If you'd like your home gutters to provide you with high curb appeal, you should consider copper gutters. They can add a distinctive architectural touch to your home thanks to their golden brown color. It's important to note that copper gutters are the most expensive type of gutters so you should be prepared to pay a pretty penny if you're interested in them.
Vinyl Gutters
When searching for gutters for your home, you will likely come across vinyl gutters as they are very popular. Vinyl gutters are cost-effective, easy to install, and available in a number of different colors. If you do choose them, don't be surprised if the vinyl becomes fragile and cracks over time due to extreme temperatures.
Wood Gutters
Although wood gutters are rarely selected for homes, they do offer high curb appeal and may be a good option for some homeowners. In the event that you opt for wood gutters, be prepared to maintain them regularly in order to prevent rot and cracks.
Now that you understand the curb appeal, price, durability, and weather resistance of each gutter type, you can choose the right gutters for your home. Once you get them installed, be sure request a free LeafFilter estimate so that you can protect your gutters from clogging and ensure they perform their intended function.