Although leaves are beautiful, they can wreak havoc on your gutter system. When your gutters clog with leaves and other debris, you may be left with serious and costly home damages. Some of these damages include soffit and fascia rot, roofing damage, mosquitoes, mold, and basement flooding.
As a homeowner, you have probably tried gutter cleaning to clear your gutters of leaves. Although it's great that you have made an effort to protect your gutters, know that there are issues with gutter cleaning. The issues with gutter cleaning are that it's dangerous, expensive, and only a temporary solution to clogged gutters.
Standing on a ladder to try to clean leaves out from you gutters can lead to serious injuries. If you pay someone to clean your gutters multiple times a year, you will likely be spending close to $1,000. Dishing out $1,000 a year for every year you live in your home can add up to a significant amount of money.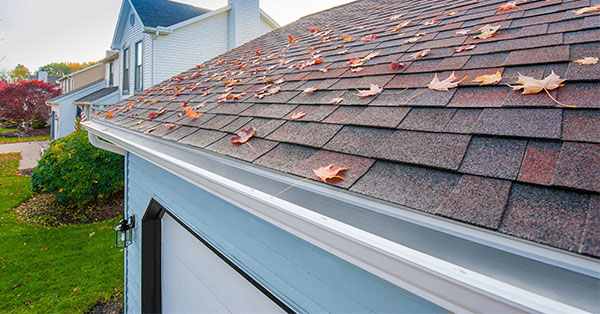 The Permanent Solution to Leafless Gutters
If you're searching for a permanent and affordable solution to leafless gutters, forget about gutter cleaning and consider professionally installed gutter guards by LeafFilter. LeafFilter's micromesh gutter guard system is comprised of surgical stainless steel which will never rust or corrode.
The LeafFilter system also contains a durable uPVC material which will never deteriorate and can handle any weather condition including scorching heat and freezing winter temperatures. Since LeafFilter features no holes, gaps, or openings, we guarantee that you'll achieve leafless gutters by investing in this system.
Nothing but water will ever enter your gutters and you won't have to worry about leaves, insects and pests, snow and ice, moss and pollen, dirt, seed pods, and shingle grit from clogging your gutter system.
Why You Need LeafFilter Even If You Have Minimal or No Trees
If your home is surrounded by minimal or no trees, you may believe that you don't need gutter protection. The truth is that your gutters still have a chance of clogging with leaves and other debris. A strong storm wind may carry dirt, twigs, critters, and other debris to your gutters. You may also find animals like squirrels, rodents, and birds in your gutters in the colder months.
Request a Free Estimate
With our gutter guard system, you won't have to worry about gutter cleaning, leaves, and other gutter clogging debris ever again. If you'd like to learn more about how LeafFilter can help you achieve leafless gutters for the lifetime of your home, we encourage you to request a free estimate today.