When searching for the best material for your new eavestrough system, there are many different options to choose from. Some of the most common materials are vinyl, steel and aluminum, although some homes have copper and wood eavestroughs.
Aluminum seamless eavestroughs are ideal for complementing your home. This can be contributed to the fact that they are incredibly flexible and reliable, in addition to a number of different benefits. Once installed, you'll have to keep in mind the maintenance requirements, which may require hiring an aluminum gutter cleaner.
Here are 6 things you may not have known about aluminum eavestroughs:
Aluminum Eavestroughs Hold More Water
One of the biggest benefits of aluminum eavestroughs is that they are able to hold more water than other types of systems. This is important during heavy downpours.
Choosing a Lightweight Material like Aluminum
Aluminum is a great option for those looking for a lightweight material. Not only are they easier to install than heavy materials, they also tend to sag less.
Aluminum Eavestroughs are Durable & Long Lasting
This material is incredibly durable. In fact, they stand up to snow and hail quite well, plus they resist thinning over time. This feeds into the longevity of the product. Most seamless eavestroughs last homeowners 20 years or more!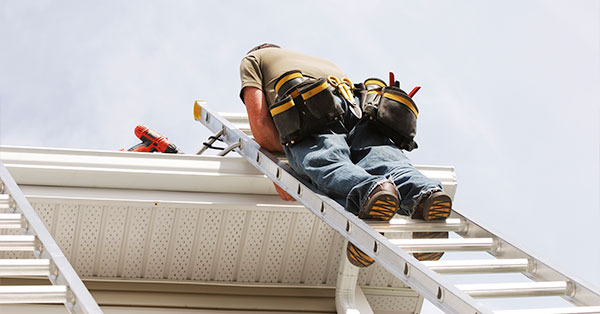 Seamless Eavestrough Options
A whopping 70% of homeowners opt for seamless gutters. Fortunately, aluminum works great for seamless eavestroughs. Seamless eavestroughs are a popular choice among homeowners because they have no seams – which means no leaks. This helps to ensure that water is effectively, and safely, carried away from your home.
If your system has leaks, water could spill down the side of your home, creating a number of issues like foundation damage, soffit and fascia rot, basement flooding, and mold and mildew.
Related: Are Seamless Rain Gutters Worth It?
Aluminum Doesn't Rust
Although steel is much more durable than aluminum, it's quite heavy. Plus, once leaves and debris start filling up in your gutters, your aluminum gutter system could start rusting or corroding. We recommend opting for aluminum over steel for these reasons when it comes to your eavestrough system.
Customizable Eavestroughs
Unlike other materials like copper or steel, aluminum is quite customizable to your home. Aluminum gutters are available in different gauges and thickness, so you can create a custom solution for your home. This ensures that the gutters are shaped to fit any space on the roof or down the side of the house.
If you have an odd shape home with lots of angles, you'll want to steer clear of copper or steel gutters and opt for a more flexible, customizable solution like aluminum.
Protecting your Aluminum Seamless Eavestroughs with LeafFilter
Once you've installed aluminum eavestroughs, it's important to take the necessary precautions to protect your gutters. As leaves and debris fill up and clog your eavestroughs, water will have nowhere to go. Instead of being directed safely away from your home, rainwater can spill over the sides of your house, leading to a number of serious and expensive water related damages.
LeafFilter, a professionally installed gutter guard, is installed on top of your existing gutters, preventing leaves, debris – everything but water – from entering and clogging your gutters. Not only will you never have to hire an aluminum gutter cleaner again, you'll protect your home from serious water-related issues!
Learn more about how LeafFilter Gutter Protection works or request a free estimate today to get clog-free gutters for life!