Your gutters deserve the very best care. After all, ignoring them can lead to gutter clogs which can trigger costly and annoying home damages. To avoid the inconvenience and expense that clogged gutters can cause, investing in leaf guards is the way to go.
With a one-time investment of quality leaf guards from LeafFilter, you will never have to worry about gutter cleaning and enjoy the peace of mind of having gutters that are always in tip-top condition. Here are 5 reasons why installing gutter guards on your home can be one of the greatest decisions you can make as a homeowner:
Leaf Guards Increase Your Home Value
If you are planning on selling your home in the future, you can easily increase its home value with leaf guards. When a potential homebuyer knows that your home is equipped with LeafFilter leaf guards, he or she will appreciate never having to clean the gutter system. In addition, a potential homebuyer will be pleased to find out that your home will be protected from foundation and roofing damage, mold, a flooded basement, a heaving driveway, landscape erosion, and more.
Leaf Guards Keep You and Your Family Safe
Gutter cleaning can be an incredibly dangerous home maintenance task. If you decide to clean your gutters rather than installing gutter guards on your home, you will have to climb a ladder to do so. Climbing a ladder can put you or another family at a high risk of falling and suffering from a serious injury or in some cases, a fatality. When quality gutter guards are installed, you'll never have to worry about climbing ladders or risking your safety to maintain your home.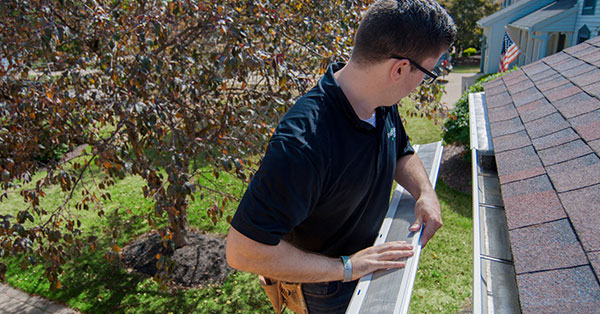 Leaf Guards Come With a Warranty
Leaf guards typically come with a 15-20 year warranty that is non-transferrable. However, at LeafFilter, we pride ourselves on an industry-leading lifetime, transferrable warranty. The LeafFilter warranty ensures that all customers are satisfied with their purchase of our gutter guards.
Leaf Guards Work in Rain, Snow, and Any Weather Condition
Sometimes, homeowners are weary of installing gutter guards because they do not know how they will work with rain and snow. A LeafFilter leaf guard has the ability to handle just as much water as an unprotected gutter. In addition, since LeafFilter is secured on top of internal hidden hangers, it can prevent snow and ice from ever entering your gutter system.
Leaf Guards Do Not Require Gutters
Most gutter guards can be installed on your existing gutters so you don't have to invest in a new gutter system. Keep in mind that if your gutters are in poor condition and can benefit from a replacement, a gutter replacement may be recommended to ensure that the leaf guards function at their optimal level.
If you'd like more information on how installing gutter guards can benefit your home, fill out a free estimate form today. One of our knowledgeable gutter professionals would be happy to come