Curb Appeal Questions to Ask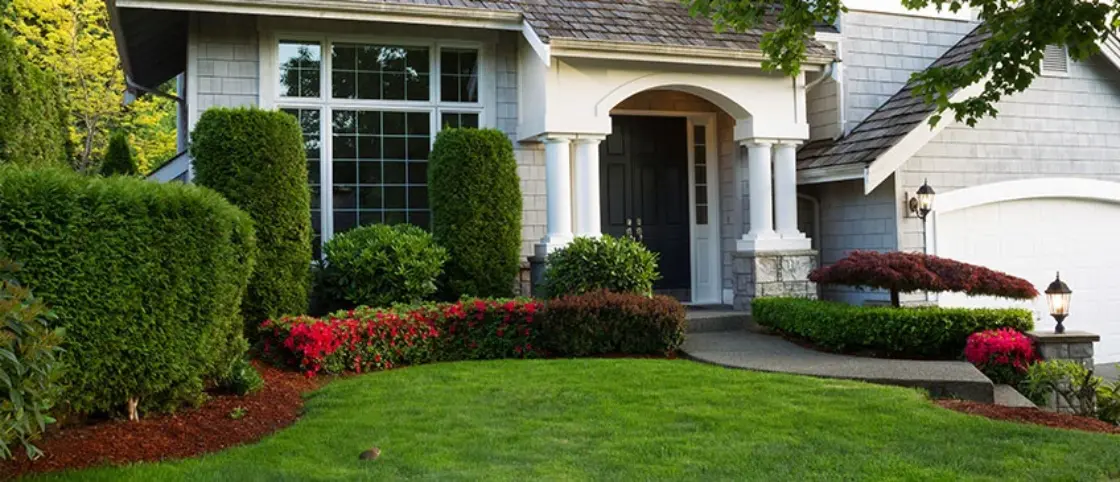 After the front porch has been swept, the paint has dried and the flowers have been deadheaded, you may step back to admire your work and feel your home's curb appeal is still lacking. Sometimes it's hard to know exactly what is off about your home. Go across the street and check it out from a distance, then snap a photo. Keep the picture handy, go through this checklist and see if any of these smart curb appeal investments will help your home look more inviting.
How to Choose the Right Exterior Color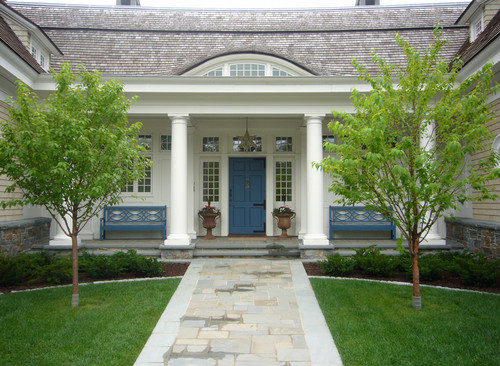 Are the architectural details the right scale and style? Classic columns on the front porch, windows on the sides of the door (sidelights) and an eyebrow dormer are charming touches that make this front door all the more inviting. Your porch posts may be out of scale, or that contemporary door may be out of whack with your traditional home. Analyze each detail and see if they complement the house.
Is the front door neat and clean? The most important thing is that it is crisply painted and clean.
If you have sidelights or transoms, make sure you clean them weekly, inside and out. Coordinate lanterns or outdoor sconces, great hardware, house numbers and a door knocker with your home's style. These final touches make a big impact.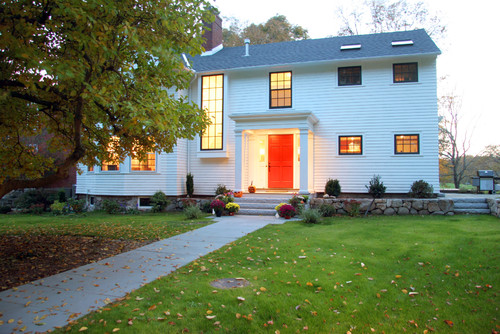 Is the front door the right color? If your front facade feels ho-hum, a new front door color can rev it up. Not sure which color will suit your home? We have a number of helpful ideabooks featuring a range of front door color choices and how to pick them; Vanessa Brunner has conveniently put them together in one place for you.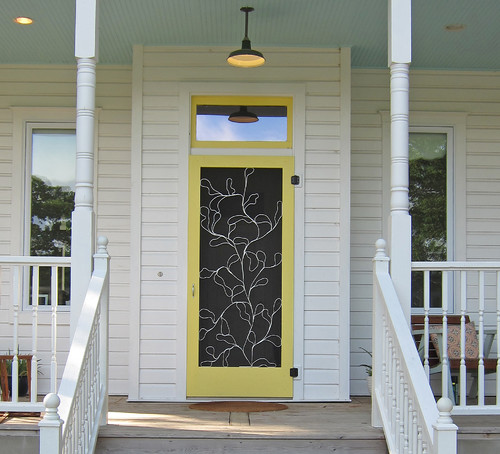 Is your screen door or storm door unsightly? A lot of us don't necessarily notice our very functional but not-so-pretty front screen doors, but they can be the lipstick on the teeth of your home's otherwise perfectly made-up face. Aluminum doors may be rusty; screens may be jutting out or covering up a beautiful door and taking away from its beauty.
There are many beautiful screen doors out there; some of my favorites are by artist Susan Wallace, who transforms screen doors into works of art with intricate metal designs. There are also cottage-style doors with wood frames and carved wood details. If you want to lose the door and keep the bug-free cross breeze, there are ingenious rolling screens that fit into the door jambs and hide from view when not in use.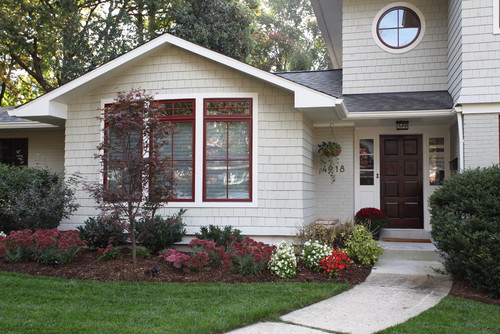 Is the trim giving your house the proper punctuation? If your house is channeling the blahs, refresh your trim. Perhaps your white could look crisper or your window trim is calling for a color that stands out. Sometimes dark panes that contrast with the outer trim are the answer. If you're struggling with a color choice, I can't recommend working with a color consultant enough.
Are the kids afraid to trick-or-treat at your house? Curb appeal continues from day into night. Make sure your front door and pathway is well lit with fixtures that coordinate with your architecture and color scheme. Extra enhancements on the home here also include the lights on the potted trees out front. A well-lit house also helps keep burglars away.
What's the state of your front steps? A friend of mine was complaining about her front wooden steps that touch the ground the other day (a termite risk here in the South, not to mention the way they rot and the paint peels), and I realized I'd never given such a thing a thought. Bluestone runs and stone-faced risers are a beautiful option.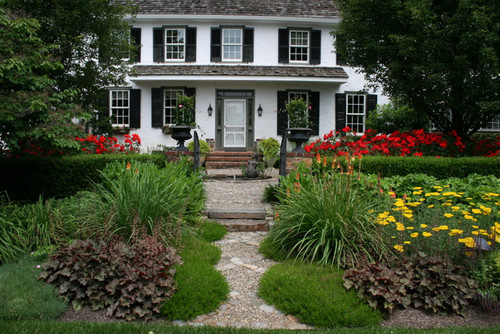 Is your front path clear and inviting? A clear view and access to the front door are key; you don't want visitors being snagged by thorns or tripping. Create a walkway from the sidewalk to the front door that will keep your postal carrier happy.
Can you have a rocking good time out front? Even a small front porch calls for old-fashioned rockers. It's also a great spot for watching the world go by. Porch swings, wicker chairs, and benches are other great front porch seating options.
Find the Perfect Outdoor Furniture on Houzz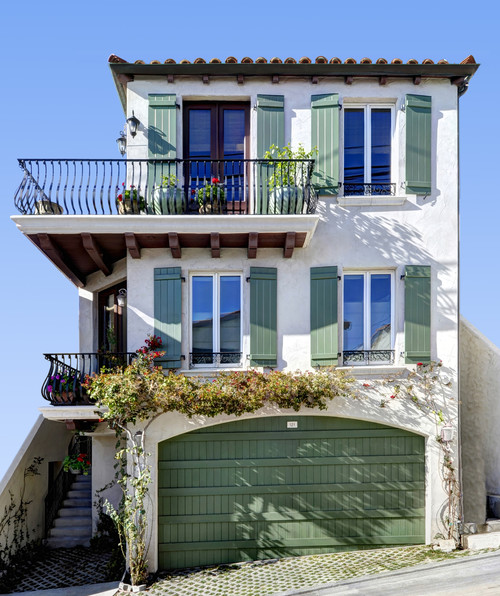 Do your shutters fit your window size? If your home's facade is bumming you out, check out your shutters. Are they smaller than your windows? Nailed to the siding? Shutters were made to cover windows and hang on hinges. Find a form that follows this function (or make them at least appear to be functional) and that goes with the style of your home.
Do your accessories go with your home's style? This woodsy cabin's charming bucket of logs and wreath suit it well, while if you're near the beach, you may want something coastal.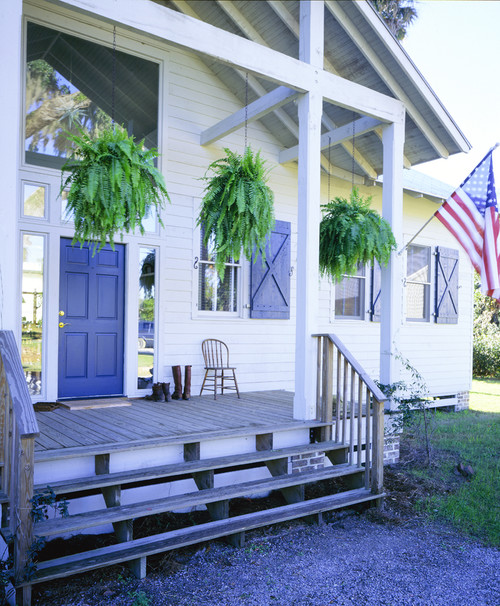 Do you need some life out there? Whether ferns or colorful flowers, hanging plants, window boxes, and potted plants are easy-to-add touches that give miles of curb appeal.
Do your planters go with your architecture? Match the planters to your home's style. For example, urns go well with classic and transitional homes, bullet planters work well with modern homes, and rectangular containers pair up nicely with contemporary homes.