It's the most wonderful time of the year! Hanging Christmas lights can really transform the look and feel of your home, making it more festive for the holiday season. When hanging Christmas lights, there are some important steps you should take. In this article, we explain how to hang holiday lights like a pro.
Seasonal Considerations
Considering hanging your outdoor lights before the harsh winter weather hits. The last thing you want to do is hang Christmas lights in the middle of a snow storm. Not only is it more comfortable to work when the temperatures are mild, it is also safer. Climbing ladders and working along your roofline can be extremely dangerous in bad weather.
Check Them Twice
Before hanging your Christmas lights, we recommend checking them. Pull them out of storage and see if they are functional before you start fixing them to your home. Plug them in to make sure they are work.
This step may seem like common sense, however, many homeowners end up skipping it, which usually results in frustration. By planning ahead, you will have plenty of time to make repairs and a shopping list for replacement.
Get a Plan Together
Map out where your lights will go and make sure you have enough supplies for that area. Use a long tape measure to estimate the number of strands you will need. When purchasing holiday lights, opt for shorter rather than longer light strings. If a string stops working, you can replace it more easily and affordably.
Choosing your Christmas Lights
It can be quite overwhelming when going to the hardware store to choose your Christmas lights. There are a variety options including clear, white, or colored lights, and some stay solidly lit, while others blink or chase.
Whatever you choose, the most convenient light strings have a male plug at one end and a female receptacle at the other. You can plug them together from end to end to create a long strand that is easier to route. Remember to choose lights that are UL-approved for outdoor use.
Hanging Lights: Step by Step
Locate an electrical receptacle. Plan to run a heavy duty extension cords from a working 120-volt electrical outlet protected by a ground fault circuit interrupter. If you can, use a switch controlled outlet or automatic timer.
Get out your tape measure. Measure the length of your home using a long tape measure. Measure any bushes, shrubs or trees you intent to light.
Test your Christmas Lights. Test the lights before you plug them in, inspecting them for any loose or broken bulbs. Faulty wires can also present a fire hazard, which may prompt you to replace the string entirely.
Ladder Safety. When climbing a ladder, be sure to use proper ladder safety tips, such as keeping two feet on the ladder at all times and enlisting a partner to help.
Secure Christmas Lights. Attach lights along your gutters or roof with plastic clips made for the job. These clips will grip shingles or gutters and have a lower hook that holds a light strand or extension cord.
If you are attaching lights to your window trim, use tube light clips or nail on plastic clips. You can find these at your local home improvement store. Space the clips 12 inches apart. Don't use nails or staples to hang Christmas lights – they can pierce the protective insulation, creating an electrical hazard.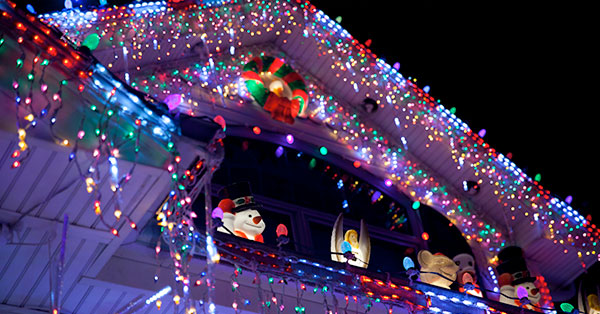 How to Hang Christmas Lights with Gutter Guards
We are frequently asked if you can still hang outdoor holiday lights after the installation of LeafFilter Gutter Protection. Fortunately, yes, you can! This means, not only will you be able to protect your gutters from clogs, but you can still enjoy your decorations throughout the holiday season.
Here are some tips for hanging Christmas lights when you have gutter guards:
Attach Christmas Lights to Shingles: One approach is to simply attach your lights to your shingles rather than your gutters. Traditional shingle clips will work as intended. This is not an ideal approach if you live in a really snowy area, which could cover up your lights.
Install Under Gutter: Looking for a regular all-in-one clip to adhere your C9 bulbs under your gutter. These all-in-one type clips allow you to easily secure your holiday lights to the underside of your gutter, so they won't interfere with your gutter covers.
Adhesive Clips: You can always opt for adhesive clips and apply them under your gutter. Light clips with an adhesive backing with affix directly onto the front surface of your gutter. These moisture resistant clips will hold your lights in place without interfering with any run-off water.
Remember, Safety First!
No matter how you choose to hang your Christmas lights this holiday season, we remind you to be safe when climbing the ladder. Climbing a ladder always involves potential risks which should not be taken lightly. We hope everyone has a safe and happy holiday season!