Grandparents Day is a celebration of two of the most cherished titles in the world – Grandma and Grandpa! Consider making Grandparents Day extra special this year by bonding over some fun activities with your grandchildren.
Read on for 8 fun ways you can bond with your grandchildren as you celebrate the grandest day of the year!
Cook Something Special Together
One of the great ways to bond is to cook a favorite recipe. Invite your grandchild to cook or bake something that is very special to you. Perhaps it is your mother's famous apple pie or your dad's favorite lasagna. Maybe your little one even has a favorite dish request!
Children love to help out in the kitchen. Little kids can enjoy mixing, pouring, and stirring, while older children can get hands-on with their tech savviness and videotape or photograph the ordeal to create a memorable keepsake.
Looking for a new recipe to try? Check out our top BBQ sauce recipes to try this summer.
Learning Something New Together
Another great way to bond is to learn a new skill together. Have you always wanted to make a robot, design your own t-shirts, or build a boat? Grandparents Day is a great time to tackle these tasks with your grandkids.
If you are looking for an easy DIY craft to tackle, you can always create a gutter garden. LeafFilter has step-by-step instructions for creating your own gutter garden. The best part is, you can recycle your old gutters and create a beautiful garden within a limited amount of space! We suggest planting flowers, strawberries, or herbs in your gutters.
Create a Scrapbook
Creating a Grandparents and Grandchild scrap book is not only a relaxing afternoon, it can be a fun way to reminisce!
Allow little ones to decorate the book and ask them to search for different family photos of the past.
If you're not interested in making an entire scrapbook, you could always ask your grandchild to decorate frame that includes a picture of the two of you.
Get Hands-On in the Garden Together
Why not prep your yard for the fall with the help of your grandchildren? Kids love planting bulbs, helping in the yard, and standing back to admire their work.
When getting your hands dirty in the garden, be sure to take extra precautions to protect your yard from fall damage. It would be a shame to have all of your hard work go to waste!
RV or Camping
If you are the outdoorsy type, getting away while the weather is still nice may be the perfect way to spend time with your grandchildren. Camping is a great opportunity to relax by the campfire, fish, or be active with your grandchildren.
If you do head out on the road in your RV, be sure to have the essentials in your RV toolbox. We'd never want you to let a mini disaster destroy your fun!
Is camping more of your thing? There are plenty of unique camping destinations that offer lots of fun activities in a unique setting that both you and little ones will love.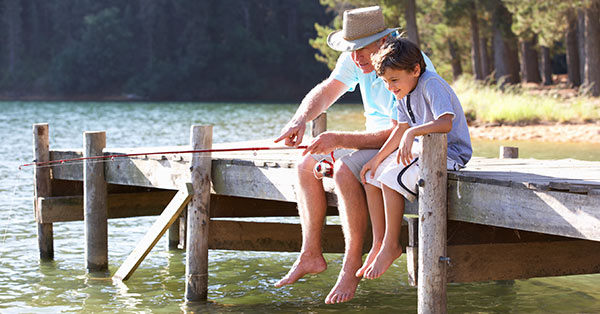 Go Fish
Imagine a day that is filled with no phones, tv, or gadgets — just sunshine and fresh air! Fishing with a little one is the perfect way to spend some of the last summer days! This activity gives you a great opportunity to create memories for the future.
Be sure to pack some bobbers, or floats, and slip-bobbers, as these work well for kids. Slip-bobber rigs reduce the amount of line needed at the end of the rod and they're easier to cast. A light line (preferably a six-pound or less test-line) is best for kids.
Make a Memory Box
Kids love treasures, so memory boxes can be the perfect afternoon crafts.
Your kids will love decorating their own box with designs and pictures. Have plenty of markers, stickers, and glitter on hand so that your grandchildren can make their box unique. Encourage your kids to fill their memory box with photos, special jewelry, ticket stubs and knick-knacks.
Before your kids start creating their own memory box, create your own as an example. You can show them old photographs, jewelry, and treasures. Sit with your grandchildren and share stories with them explaining why these items are special to you.
Create a Family Tree
It's important to teach your grandchildren about where they came from. Family trees can be a great way to do so. Your grandchild will enjoy decorating the tree and it gives you the opportunity to explain your ancestors, background, and a bit more about the family.
Making it a Tradition
However you decide to spend Grandparents Day, make your tradition a yearly ritual. Traditions provide structure and framework for bonding and are a wonderful way to get to know one another better. Set aside time each year to bond with your grandkids.