Whether you're well-traveled or have yet to leave your hometown, there are some destinations you absolutely must visit in your lifetime. While there are countless bucket list destinations all over the world, you still have to start somewhere. That's why we, at LeafFilter, have compiled this list of the top ten bucket list destinations in North America. Is your list handy? Here goes:
Winnipeg, Manitoba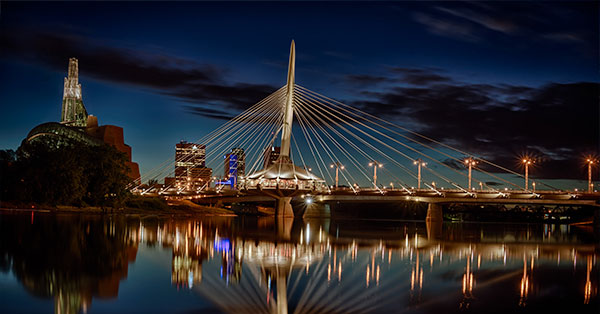 Winnipeg offers a little something for everyone. Those interested in learning about how currency is made can visit the Winnipeg Mint, the architecturally beautiful building that houses a part of Canada's coin production. Travelers who are fans of the arts should buy tickets to see a performance of Canada's Royal Winnipeg Ballet or the Winnipeg Symphony Orchestra. When you get hungry, just hit up one of the farmer's markets for locally sourced produce, or get a taste of the trendiest cuisine on one of the specially designed culinary trails. Train travel is also huge in this area, so you won't want to miss hitching a ride on the Prairie Dog Central Railway. A trip to Winnipeg is one you won't soon forget!
St. Paul, Minnesota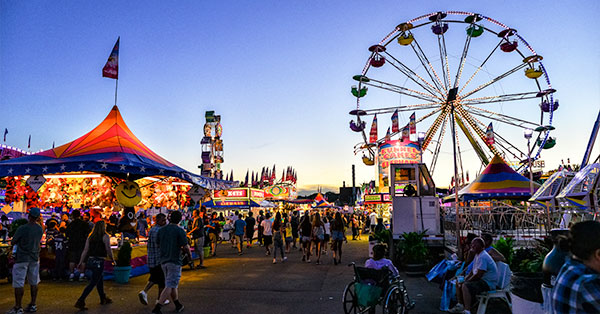 For this trip, you absolutely must plan to arrive during the nationally famous Minnesota State Fair. This week and a half long affair drew nearly 2 million people in 2016, and is sure to be even bigger in 2017! You can experience fried foods galore, rides and attractions, and booths from your favourite vendors (don't forget to visit the LeafFilter booth!). Outside of the fair, you can explore the city's rich history, including sacred American Indian burial grounds, old gangster territories, and the home of F. Scott Fitzgerald. This is one exciting place to visit!
Niagara Falls, Ontario and New York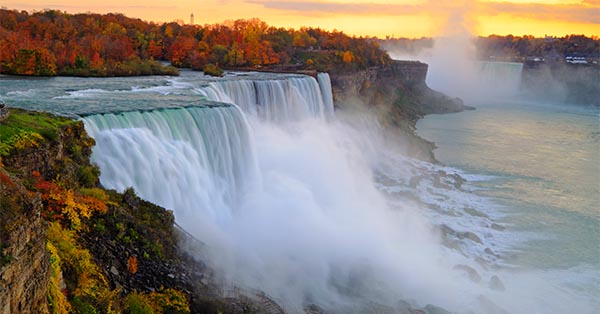 Niagara Fall is a magical place to visit on both the U.S. and Canadian sides. Get up close and personal with the falls by taking a ride on Maid of the Mist, or catch a bird's eye view at Skylon Tower. If you're lucky, you might even catch a fireworks show over the falls at night. Adults should visit the Fallsview Casino, or follow the Niagara Wine Trail for a taste of the world famous regional wines. Visitors of all ages will enjoy a day at the Aquarium of Niagara, where you'll find penguins, seals, and other lovable sea creatures. Families will also have a blast playing midway games at Clifton Hill.
Mammoth Cave, Kentucky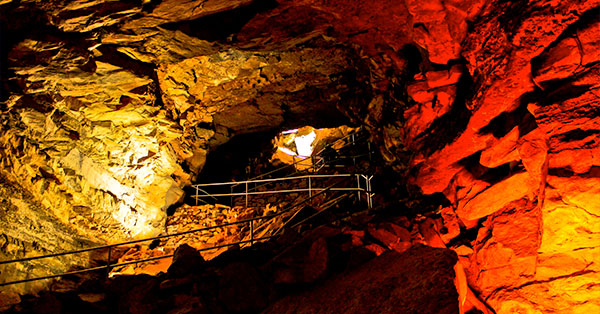 Mammoth Cave is a magnificent natural wonder. This destination is great for adventurers. With gorgeous, sparkling geological features, the cave itself is a sight to behold. That's why guided cave tours are a must. But outside the cave, there are positively endless outdoor activities. Go from the vast depths of the caves all the way up to the treetops with the Mammoth Cave Zipline Adventure. For an authentic nature experience, you can camp out, but renting a cabin or staying in the Mammoth Cave Hotel are also perfectly acceptable lodging options.
Kingston, Ontario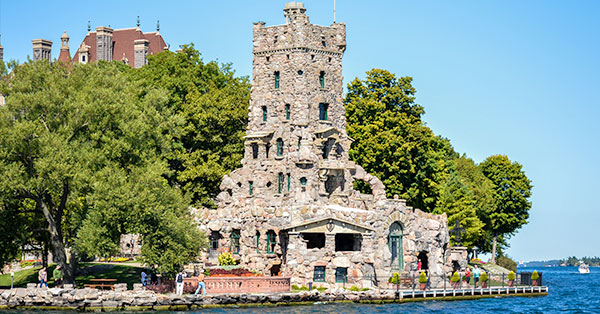 As a historic town, Kingston, Ontario is overflowing with sightseeing locations. A 1000 Islands Cruise will show you the highlights, including the Boldt Castle (part of which is pictured above!). You should also check out the Kingston Penitentiary, which is a national historic site, and Fort Henry, which is part of a world heritage site. Even better than the historic sites is the rich culinary scene. You're sure to find whatever suits your cravings — just check out this lengthy list of restaurants! For the ultimate reprieve from the day to day grind, kick back at the Rosemount Inn & Spa.
Bay of Fundy, New Brunswick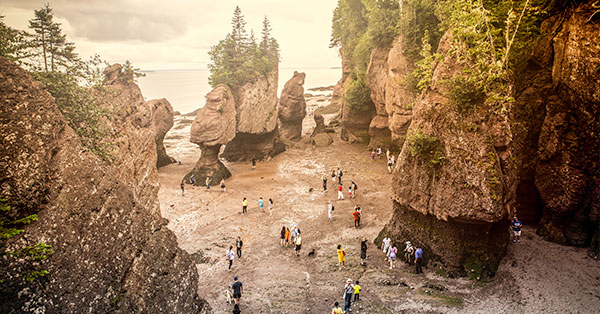 The Bay of Fundy is recognized as having the highest tide in the world. Ranging from over 3 metres to over 16 metres high, this formidable sight is worth taking the trek to New Brunswick! What's even cooler is the opportunity to leave your footprint on the ocean floor during low tide, when you can roam between the cliffs and the sea stacks. The Bay of Fundy is another prime spot for whale watching, and, with over 360 species of native birds, so is bird watching. In other words, don't forget to pack your binoculars! All that exploring will probably leave you famished, so head on over to Fundy Lobster for a nice lobster dinner to top off the perfect day.
Bruce Peninsula, Ontario
The waters of Fathom Five National Marine Park near Bruce Peninsula are filled with fascinating shipwrecks, which you can see on a tour in one of Bruce Anchor's glass bottom boats. Another fantastic spot is the Grotto, where you can explore natural caves, cliffs, rock pillars, and coastline. This is also a fun place to go diving with Diver's Den professionals and experience the sea life. From Tobermory to Park Head, the entire peninsula is full of natural wonders. Stay in a bed and breakfast, like the Highland Manor Inn or the Purple Frog, to experience a level of hospitality you simply won't find anywhere else.
Cadillac Mountain, Bar Harbor, Maine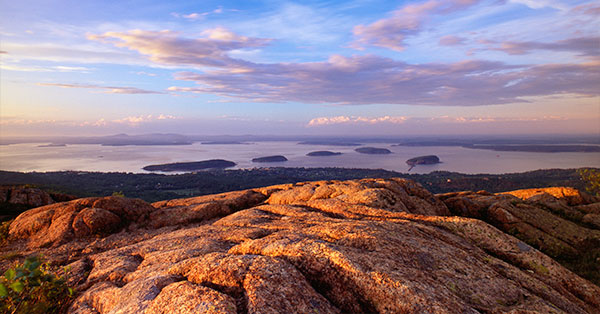 At the tip of the east coast in the U.S. is the city of Bar Harbor. In the midst of this small harbour town is Cadillac Mountain. Here, you'll have a front row view to the first place the sun rises in the U.S. in fall and winter. After you've greeted the day, the opportunities for fun are positively endless. With the nearby Acadia National Park, nature watching opportunities abound, but, whatever you do, a whale-watching tour is a must. Go treasure hunting for coastal collectibles in the little shops sprinkled throughout town, we recommend the fabulous Island Artisans store. Maine is also known for its delectable food – from lobster rolls to clam chowder to blueberry everything, you're sure to leave feeling satisfied.
Daytona Beach, Florida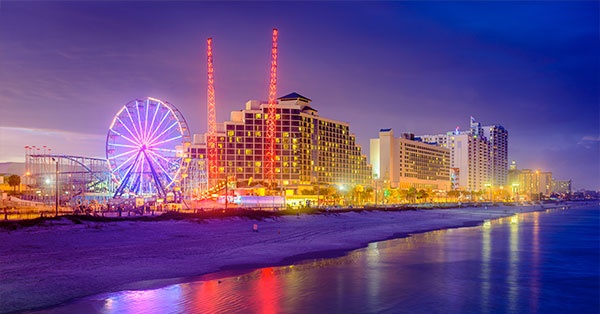 If you're a vehicular aficionado, Daytona Beach is the place for you. A visit to the Daytona International Speedway is a must. Time your trip during the Daytona 500, or any other NASCAR race, for some nail biting action. You could also plan you trip during the annual Bike Week in March or the Biketoberfest in October. The whole family will love catching a wave or a waterslide at Daytona Lagoon, one of the area's highest rated waterparks. Between all the beautiful beaches, the great nightlife, and the fabulous shopping opportunities on historic Beach Street or at the Ocean Walk Shoppes, you're sure to have a memorable experience!
Grand Canyon, Arizona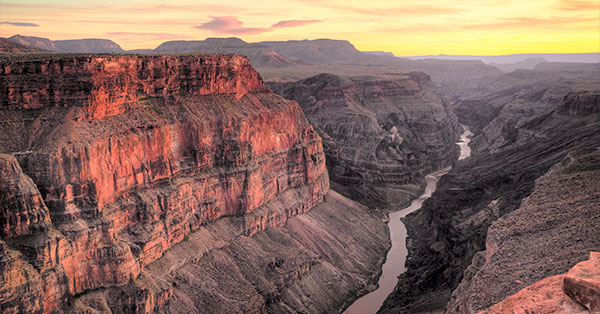 The Grand Canyon is a world renowned tourist destination for a reason – its spectacularly breathtaking sights. Just imagine the sun rising over the vast expanse of red clay, with a wide open day before you. The Watchtower at Desert View is one of the best places to catch the full view. For a different vantage point, head to the Skywalk, a beautiful glass horseshoe-shaped bridge perched over the Canyon which is located at the nearby Hualapai American Indian Reservation. You should try hiking and whitewater rafting in the nearby national parks. Oh, and did we mention the stargazing opportunities? Out in the wilderness, without the light pollution of the big cities, you'll have the perfect view of the night sky.
How can you find the time to visit these bucket list destinations?
Ten destinations may seem like a lot when you have household chores looming over your head. By automating some of these chores, and investing in preventative equipment, you'll free up the time and resources to be able to visit these ten destinations and beyond! Your first step should be LeafFilter, which protects your eavestroughs from debris. This means you'll never get that dreaded phone call while you're on vacation to let you know your basement has flooded due to overflowing eavestroughs. Fill out the free estimate form on our website, and you'll be one step closer to checking off all those bucket list destinations!