9 Cozy Towns to Spend Your Valentine's Day

Updated
February 10, 2017
Many couples will spend this Valentine's Day cozied up in the comfort of their own home. There's nothing wrong with that, of course. Especially when you don't have pesky chores like gutter cleaning hanging over your head, thanks to LeafFilter. But, if you haven't invested in LeafFilter yet, you may find yourself arguing over the fact that you've neglected gutter cleaning for way too long instead of celebrating your love. So, this year, take a getaway instead, and take care of those gutters when you get home. To help jumpstart your plans, visit any of these nine wonderfully cozy places across North America. We swear, it's like Cupid himself made these towns just for situations like this!
Niagara-on-the-Lake, Ontario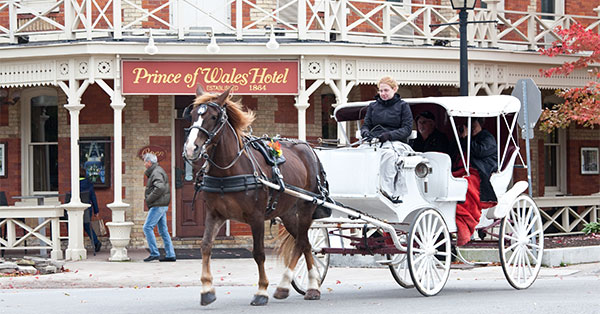 Get away from the hustle and bustle of Niagara Falls with a short jaunt to Niagara-on-the-Lake. With charming boutiques, some of the best wineries in the region, and several four-diamond rated restaurants, Niagara-on-the-Lake provides the best setting for a romantic getaway. Take a stroll with your loved one through the quaint downtown district for some quality time together. Oh, and make sure to book your stay at the luxurious Prince of Wales Hotel. The stunning décor and upscale atmosphere will have you and your travel companion feeling like royalty.
Door County, WI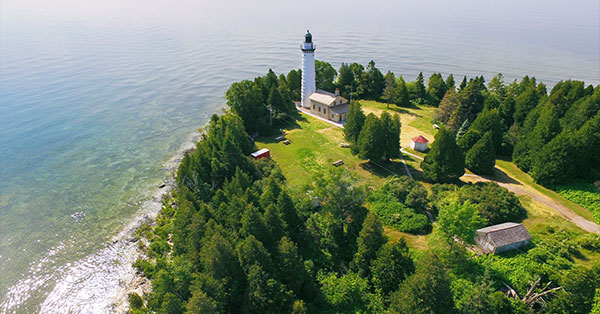 Door County is jam packed with things to see and do. The peninsula is home to a whopping 11 lighthouses dutifully watching over Lake Michigan. The Cana Island Lighthouse is one of the only lighthouses on the peninsula that is still functioning today. The area also boasts lots of cozy bed & breakfasts, any of which would make for a wonderful Valentine's Day escape. Get a cuppa with your loved one at the charming Door County Coffee & Tea Co., or grab a sweet treat to share at Wilson's Ice Cream Parlor. You'll also have the unique opportunity to indulge in the regionally-famous cherry bounce drink, which features locally grown Door County cherries. Don't miss out on the other cherry creations you'll find around town! Then, fill your belly even more at the Top Deck restaurant, where you might even catch some live music!
Love, Saskatchewan
With a name like that, who could resist calling this your Valentine's Day destination? People around the world use Love, Saskatchewan to route their love letters and wedding invitations through because of their unique postmark, which features a heart. The town also holds an annual Love Valentine Winter Festival, so if you time your trip just right, you can join in the festivities! Or, just take a stroll through the charming town with your sweetheart. Love is regionally referred to as the "Gateway to the Narrow Hills," but with any luck, it'll be your "Gateway to love!" Oh, and did we mention there's also a ton of things to do in the surrounding area too? You're sure to have a blast in Saskatchewan!
Martha's Vineyard, MA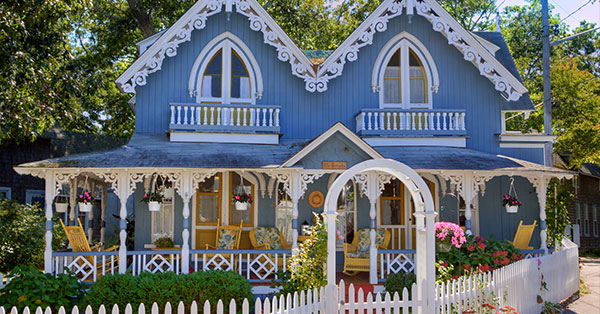 Although it's a summer beach town, Martha's Vineyard is a great spot for a Valentine's Day trip. If you enjoy staying in boutique hotels, make a beeline for the Vineyard Square Hotel. Once you're settled, venture out and go sightseeing together. You'll find galleries, restaurants, and local shops galore. Make it a point to find the quaint gingerbread cottages, which are delightfully picture-worthy. The ocean provides the perfect backdrop for a romantic evening together. Visit the Edgartown Lighthouse, or the Cape Poge Lighthouse, and watch its beacon bring in ships, or steal a quick kiss as you ride off into the sunset on the Magic Carpet sailboat. But truly, there is no better place in the world to go on a romantic stroll by the ocean and watch the sunset than at Menemsha Beach.
Victoria, British Columbia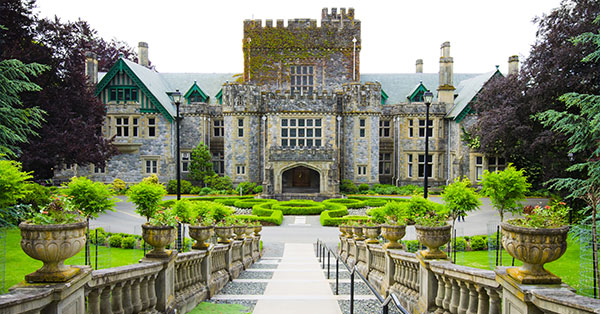 During your stay in Victoria, you'll have tons of lodging options. However, you really can't go wrong with the Delta Hotels Victoria Ocean Pointe Resort or the elegant Fairmont Empress Hotel (for a true taste of England, don't miss their afternoon tea time!). The nearby Butchart Gardens, an abandoned quarry which is now home to some of the most breathtaking gardens in Canada, provides the perfect atmosphere for a storybook-like escape. The area also has some gorgeous castles (like Hatley Castle and Craigdarroch Castle), which are a must-visit.
Austin, TX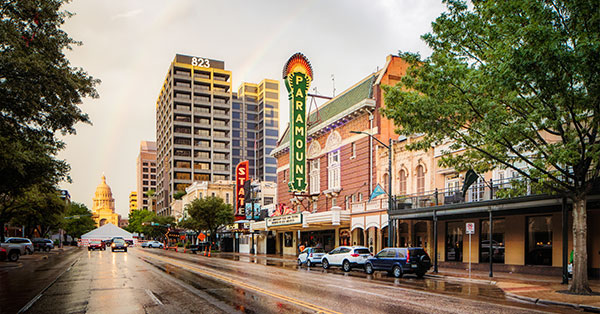 This Valentine's Day, forget dainty finger foods. Go big with Texas barbecue. You'll find endless barbecue joints in Austin, but the best is definitely Franklin Barbecue. After getting sufficiently messy at Franklin's, bring a little elegance back into the picture at the beautiful Driskill Hotel. You won't even have to venture outside of the building to find fantastic live entertainment, but if you want to dress up for a night on the town, the ornate Paramount Theater is a must! If the weather isn't too brisk, take a tour of the Hamilton Pool Preserve, a natural limestone grotto and waterfall. It will make the perfect backdrop for a romantic picture with your loved one.
Kingston, Ontario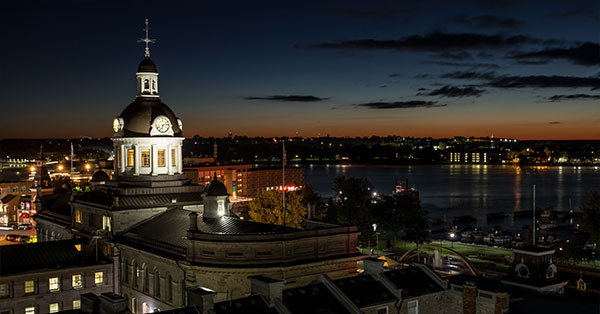 Located right on the coast of Lake Ontario, Kingston is brimming with romance. The Secret Garden Inn, a Victorian style bed & breakfast, is a perfectly cozy place to settle in for your trip. Have a date at The Grand Theatre, where you can catch a fabulous live show. The bustling food and wine scene is also not to be missed. We promise, you won't want to leave Kingston to come back home. So, bring back some local goods, like a little something from the Kingston Olive Oil Co., and keep the romance going by planning a dinner date for when you get home!
Amelia Island, FL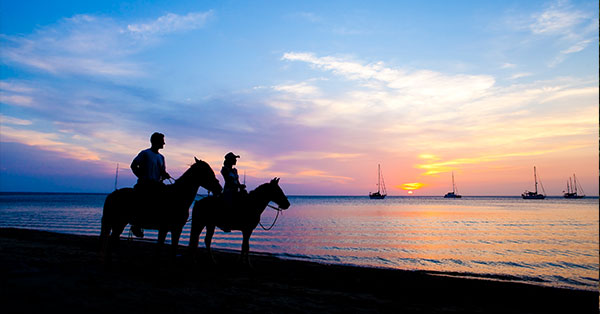 Located in the greater Jacksonville area, Amelia Island is a little beach town with a lot of Southern charm. It also happens to be one of the last places you're legally allowed to go horseback riding on the beach, so we suggest you take advantage of that this Valentine's Day weekend. Discover Amelia Island's colorful past by paying a visit to Fort Clinch and by spending some time in the historic district. Also, check out the oldest structure on the island, the Amelia Island Lighthouse, for a breathtaking ocean view. Those of legal age should head to the Marlin & Barrel Distillery for some true island fun. Then, dine at the five-diamond restaurant, Salt, where you'll get a taste of delicacies from both the land and the sea. The island life is sounding like a good idea this Valentine's Day, isn't it?
Ithaca, NY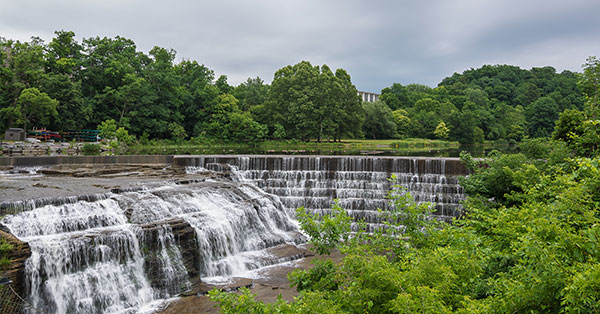 The natural landscape in Ithaca practically oozes romance. With picturesque waterfalls, gorges, rolling hills, and more, you'll fall in love with this destination. Kick back and relax with your companion at the lovely Rasa Spa, then order a glass of small batch wine at The Cellar D'Or. Take the time to peruse the town's vibrant art scene while you're there. Make your getaway extra cozy by booking your stay at the Stone Quarry House or the Bostwick House. These gorgeous, historic places have a lot of character, and will make for a lovely retreat during your time in Ithaca.
When you get back from your Valentine's Day retreat, make sure to invest in LeafFilter. It'll save you from those nasty couple's quarrels, and will protect your love nest form the damages of clogged gutters. Request your free, no obligation estimate by filling out the form on our site.