We know that with LeafFilter's 100% no clogs guarantee, our gutter protection system is like something straight out of a fairytale. That's why we believe anyone can find their own magic if they simply believe. Have you ever wished you could visit the places in some of your favorite childhood storybooks? Well, dreams really do come true. Some of those locales are based on real places – they might even be just a quick trip away from where you live! Check out these towns straight out of a fairytale.
Twin Falls, ID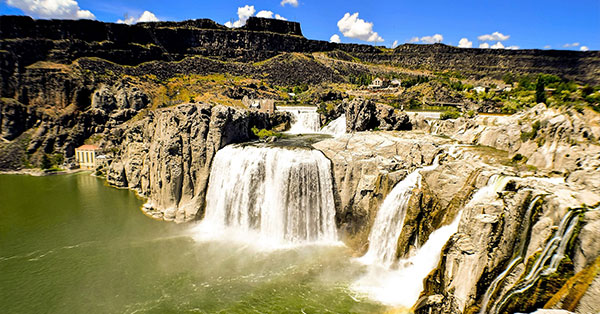 Most people might not believe that there's a fairytale town right in southern Idaho, but it's true! This place has gorgeous scenery. For a perfect view of the landscape, just follow along the winding Snake River Canyon. Then, visit Shoshone Falls (also known as the Niagara of the West), which graces the landscape with one of the most impressive natural waterfalls in the United States. The Shoshone Indian Ice Caves are another must-see natural marvel. Open year-round, you'll feel like you've been plucked out of reality and placed right into Frozen! Once you've had your fill of the magical views (is there really ever enough?), retreat back to Blue Lakes Inn, a boutique hotel.
Skagit Valley, WA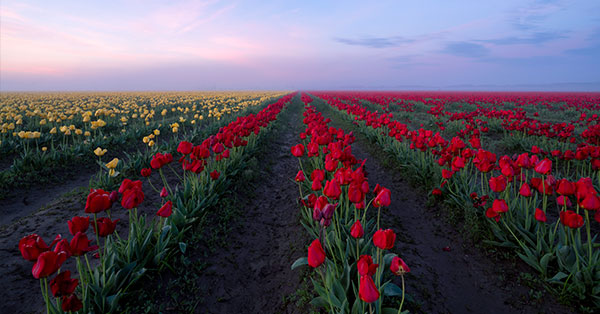 If you've never had a chance to see acres upon acres of vibrant tulips of every colour imaginable, well, you're just missing out! Plan a trip during Skagit Valley's annual Tulip Festival to get a glimpse of beauty in bloom. You can also partake in some wildlife watching to feel a little like Snow White for the day. Then, relax and be merry at the local breweries and wineries.
Crowsnest Pass, Canada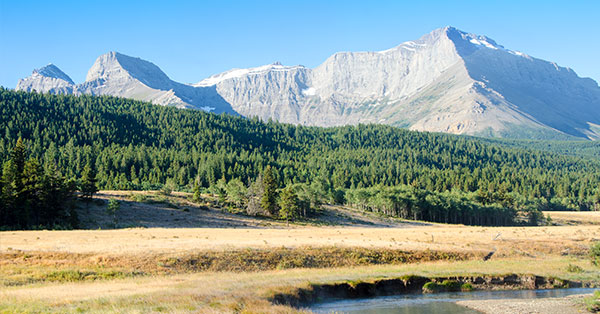 Speaking of Snow White, maybe you're a bigger fan of the Seven Dwarves. If that's the case, take a tour of the Bellevue Underground Mine. It's easy to imagine them whistling away while mining for coal! The Spring Break Flower Farm Bed & Breakfast is a fantastic place to book your stay. This is another place that's rife with wildlife watching opportunities, so don't miss out on that! If you're in the mood for adventure, the area offers plenty of exciting outdoor sports to take part in. But perhaps the most magical part of this place is getting to see the aurora borealis. On a clear night, this is the perfect place to see this natural lights show in the sky. Prepare to be dazzled.
New Orleans, LA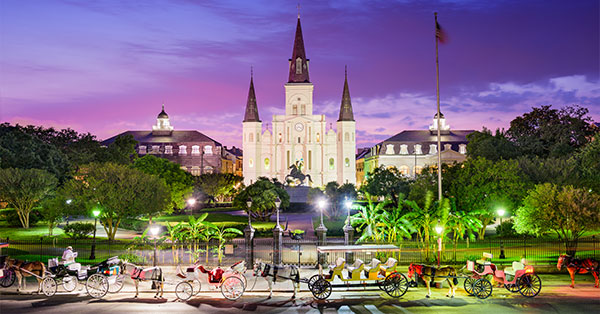 There's nothing more magical than the New Orleans French Quarter. You'll feel like royalty as you dine on French-Creole foods, tour the historic grounds, and soak in the delightfully hustling and bustling scene. You'll be having so much fun, you won't even want to go back to your room at The Royal Sonesta hotel on Bourbon Street (trust us, that's where you'll want to book your stay!). Oh, and speaking of Bourbon Street, make sure to check out one of the many jazz acts in this part of town for a truly magical musical experience. Slow it down a bit and experience the true beauty of the South by taking a carriage ride through New Orleans' Garden District. Here, you'll find mansions fit for royalty and sprawling gardens bursting with colour.
Toronto, Canada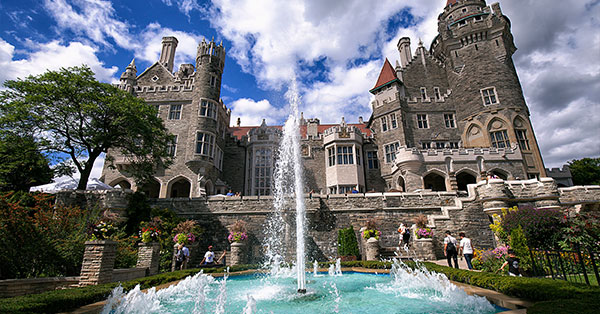 Toronto's Casa Loma should definitely be your first stop after arrival. Here, you'll find impressive architecture and catch a glimpse of how Canadian royalty lives. Then, go check out another architectural wonder at the Royal Ontario Museum. This is also a great place to discover the wonders of natural history and world cultures. Then, check out one of the countless events at Harbourfront Centre, one of Toronto's leading activity centres. Also, don't forget to look for a glass slipper at the Bata Shoe Museum. That's right! It's a whole museum dedicated to shoes! Finally, take a trip to the top of the CN Tower to view Toronto in all its glory. You'll be hard pressed to find a better view of this fairytale city!
North Adams, MA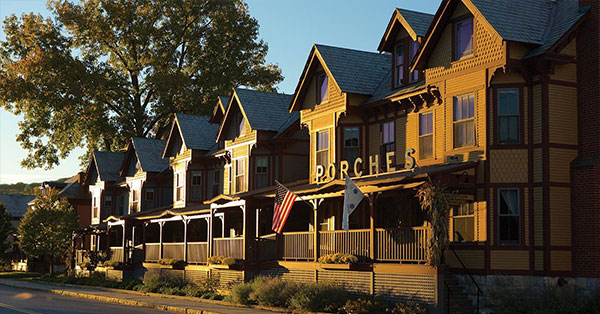 North Adams is another city with marvelous scenery. When the sun catches White Marble Falls, the water glimmers against the beautiful white marble backdrop. You'll also find top notch hospitality at Porches Inn, a cozy inn with some design flare. The area also boasts a bustling art scene, which you can check out at the Massachusetts Museum of Contemporary Art (also known as Mass MoCA). Oh, and for a taste of history, grab a hotdog at Jack's Hot Dog Stand, which has served North Adams the best hotdogs around since 1917!
Karnack, TX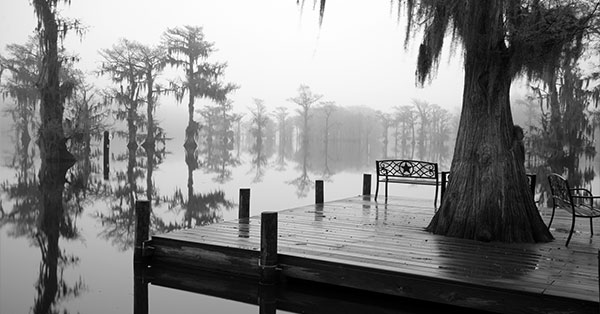 Karnack may be a bit secluded, but you sure can't beat the charming southern landscape this city lays claim to. The cypress forest in the bayou of Caddo Lake is one of the most impressive sights in the region. The trees are hauntingly beautiful, especially if you happen to catch them on a foggy morning when the sunlight peeks through the draping branches of the trees. The views alone make the trip worth it. But the cherry on top is the Carriage House B&B. This place positively exudes charm. If you want to catch a little bit of history, visit the childhood home of Lady Bird Johnson before you leave.
Ottawa, Canada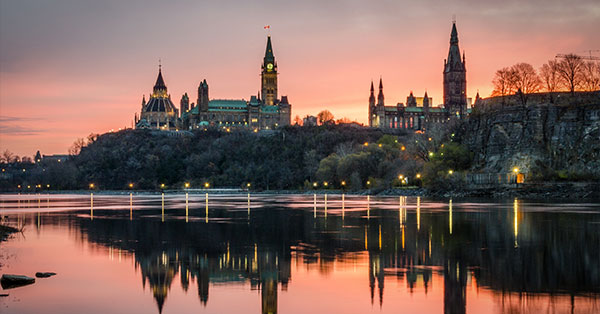 Does the thought of seeing a sky full of floating hot air balloons seem like something straight out of a fairytale dream to you? Well then book your tickets to Ottawa during the Gatineau Hot Air Balloon Festival, where you'll see that dream become reality. While you're there, you should visit the heart of the city at Parliament Hill. In true Gothic revival style, you'll see gargoyles adorning the top of the building, impressive towers, and fabulous architecture. Time your visit to catch the changing of the guard for a real royal experience. You should also tour along the Rideau Canal, a historic waterway that connects the city. A stay at the lavish Chateau Laurier hotel will really have you feeling like you're living in a fairytale!
Once you invest in LeafFilter, you'll have some of that fairytale magic right in your own backyard. You'll see a classic transformation the likes of Cinderella – dirty, disgusting gutters transformed into a sparkling clean system. And guess what? You'll finally have time to go to the ball (or on your dream vacation) because you won't be stuck cleaning the gutters ever again. So do yourself a favor, invest in LeafFilter today, and keep the magic alive by planning a trip to one of these eight towns straight out of a fairytale. Request your free estimate now.